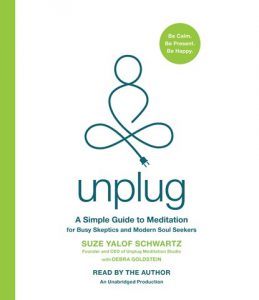 Growing up, as I did, at a time when most people in my city practiced the same Christian faith, standard practice was to look to the church for guidance about the nature of the universe, what is right and wrong, and how to think about ourselves as we live our lives. In the late 1950s and 1960s, Freudian psychology was prominent, and the brain science we had was speculative at best. Eastern religions like Buddhism were not on my radar.
These audiobooks draw their wisdom from a larger universe than the one I grew up with, so seekers of all stripes are likely to find a perspective or path that feels right for them. Nowadays, we have so much more information than we had in the past about the mechanics of attention and belief, the connection between our bodies and our minds, and how to approach the challenge of doing what we say we want to do.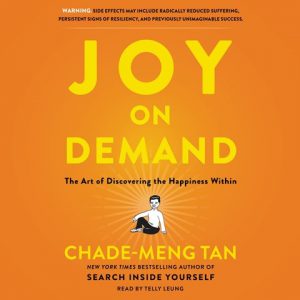 A bonus for those of us who enjoy learning by ear is that the narrators of these audios deliver this wisdom with such unambiguous phrasing and vocal clarity that listening is a breeze.
Even more memorable about this group of narrators is that each of them goes beyond mere accuracy to convince us that they believe in their message, are comfortable with themselves, and have a palpable desire to connect with whoever is listening.
UNPLUG: A Simple Guide to Meditation for Busy Skeptics and Modern Soul Seekers
by Suze Yalof Schwartz, Debra Goldstein, read by Suze Yalof Schwartz
Random House Audio/Books On Tape
Fashion editor turned meditation guru Suze Yalof Schwartz explains how she discovered meditation, how busy people can adopt the practice, and why it works. She's excellent at debunking misconceptions about meditation, and at explaining the science behind its centering power.
JOY ON DEMAND: The Art of Discovering the Happiness Within
by Chade-Meng Tan, read by Telly Leung
Harper Audio/Blackstone Audio
AudioFile Earphones Award
Narrator Telly Leung makes this conversational guide to inner joy as fun to hear as it is absorbing — he could not sound more appealing. Google trainer and TED star Chade-Meng Tan writes that joy is always available for summoning, regardless of how unhappy or angry we might be.
OVERRIDE: My Quest to Go Beyond Brain Training and Take Control of My Mind
by Caroline Williams, read by Caroline Williams
Bolinda Audio
Science journalist Caroline Williams visited neuroscientists to learn what works and doesn't work to improve brain functioning. She narrates her information-packed discoveries quickly but with the clear articulation of a UK resident and the charm of someone who sounds open to the world.
HOW ENLIGHTENMENT CHANGES YOUR BRAIN: The New Science of Transformation
by Andrew Newberg, Mark Robert Waldman, read by Fred Stella
Brilliance Audio
Narrator Fred Stella reads of fascinating brain scan studies showing how blood flow to specific parts of the brain changes when we are more or less controlling, are overloaded with mental static, feel agitated, or see ourselves as separated from others. The authors show how practices like meditation not only change blood flow in the moment but also create longer-lasting brain connections that can alter our habitual approaches to many aspects of life.
OPERATION HAPPINESS: The 3-Step Plan to Creating a Life of Lasting Joy, Abundant Energy, and Radical Bliss
by Kristi Ling, read by Kristi Ling
Blackstone Audio
People don't find happiness; they make it happen with daily actions that make a difference, according to a life coach who is an appealingly assertive writer and a crackerjack narrator. Her thirty-day program of affirmations and routines gives this audiobook power.
This post has been adapted from the original Learning By Ear column published in the October/November 2017 issue of AudioFile Magazine.