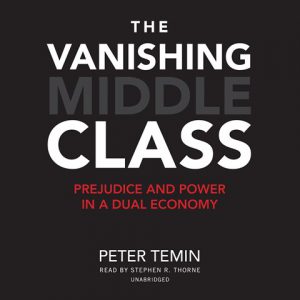 The learning audios I heard this month are about a range of issues that people are thinking about today: the growing gap between the rich and the poor, the erosion of contract between corporations and labor, some important social science topics, and a timely lesson on the way we acquire knowledge of the world.
We're all seeking clarity, and finding it requires a commitment—whether you're working on understanding yourself or becoming better informed as a consumer, employee, business owner, or citizen. These audiobooks can help because once you decide to start listening, thinking more critically becomes a habit and a priority. By just making the time and paying attention, you can absorb the substance and stimulation you need to participate more fully in life.
THE VANISHING MIDDLE CLASS: Prejudice and Power in a Dual Economy
by Peter Temin, read by Stephen R. Thorne
Blackstone Audio
AudioFile Earphones Award
THE CONFIDENCE GAME: Why We Fall for It . . . Every Time
Written and read by Maria Konnikova
Penguin Audio/Books on Tape
ECONOMISM: Bad Economics and the Rise of Inequality
by James Kwak, Simon Johnson [Foreword], read by Mark Bramhall
Random House Audio/Books on Tape
THE END OF LOYALTY: The Rise and Fall of Good Jobs in America
Written and read by Rick Wartzman
Hachette Audio
THE CREATIVE SPARK: How Imagination Made Humans Exceptional
by Agustín Fuentes, read by Agustín Fuentes
Penguin Audio/Books On Tape
INFECTIOUS MADNESS: The Surprising Science of How We "Catch" Mental Illness
by Harriet A. Washington, read by Robert Petkoff
Hachette Audio
AudioFile Earphones Award
THE KNOWLEDGE ILLUSION: Why We Never Think Alone
by Steven Sloman, Philip Fernbach, read by Mike Chamberlain
Penguin Audio/Books On Tape
Visit our website for more personal growth audiobooks!
This post has been edited from its original longer form in the print issue of AudioFile Magazine, August/September 2017.