These learning audiobooks on workplace revolution were so stimulating that I often sat in my driveway after trips and commutes just so I could keep listening. Narrated by a talented group of voice pros and authors, these audios include some exceptional career guides for people who work with others in groups in which effort is coordinated to get things done.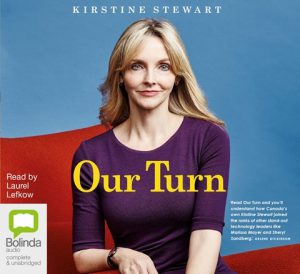 Kirstine Stewart's OUR TURN is a good example. With the help of a savvy performance by Laurel Lefkow, Stewart urges women to find more ways to express their talents at work, seek more responsibility, and demand fair compensation. Coming at a time when male biases (and misbehavior) are being called out more often, her invitation for women to step into leadership positions fits nicely with today's flattening of organizational hierarchies. Most of us thrive when working for someone with the fluid decisiveness and social skills that I see in effective female executives— someone who respects the individuals on their team instead of using them.
Other audiobooks took a more aerial view of today's workplace challenges by examining societal issues like learning opportunities and dignity for workers, technology's dramatic impact on work, and the human foundations of our financial system. These "big picture" audios may not tell us how to play the game but do provide a clearer view of the playing field. All read with clarity and impact, these audiobooks make us think instead of just stirring us up with sound bites and slogans.
Audiobooks for the workplace to make us think
WHIPLASH: How to Survive Our Faster Future
by Joi Ito and Jeff Howe, read by James Anderson Foster
Brilliance Audio
AudioFile Earphones Award
The technology and communication revolutions have upended the way we seek progress in almost every aspect of our lives. For insights into James Anderson Foster's narration of this compelling audiobook, see yesterday's Behind the Mic post.
OUR TURN
by Kirstine Stewart, read by Laurel Lefkow
Bolinda
AudioFile Earphones Award
Laurel Lefkow reads this timely broadside about women's value in today's challenging workplaces. Her performance is both intelligent and beautiful to hear, and she shows it is the right time for women to receive more responsibility and respect in the workplace.
GIVE WORK: Reversing Poverty One Job at a Time
by Leila Janah, read by Leila Janah
Penguin Audio/Books on Tape
Leila Janah reads her own work earnestly, making this a must-hear audiobook for anyone concerned about poverty and the dignity of work. Her thorough research and clear writing are persuasive in showing that solutions are possible, and her examples are inspiring for anyone wanting to aid those stuck in a cycle of poverty due to joblessness.
THE WISDOM OF FINANCE: Discovering Humanity in the World of Risk and Return
by Mihir A. Desai, read by Mihir A. Desai
Blackstone Audio
Mihir Desai reads with an appealing emotional engagement to illustrate how finance is interwoven in  the human condition, drawing on rich narratives from film, history, and culture. Think of it as a primer on basic economic principles, with added views on financial practices with an eye for humanity.
AN EVERYONE CULTURE: Becoming a Deliberately Developmental Organization
by Robert Kegan, Lisa Laskow Lahey, read by Stephen R. Thorne
Tantor Media
Stephen R. Thorne reads this guide to making your organization a place where workers can thrive is read with optimism and energy. The authors use examples from three companies to show how learning cultures are created by integrating practices into the company's daily operations and communication.
This post has been adapted from the original Learning By Ear column published in the February/March 2018 issue of AudioFile Magazine.