Audiobooks about issues and ideas have always been a large segment of the nonfiction catalog, and we're honoring that tradition with a collection of audios on social issues your friends and neighbors are talking about. Racial and LGBTQ discrimination, unfairness in the workplace, an upside-down criminal justice system—these are issues that deserve our attention.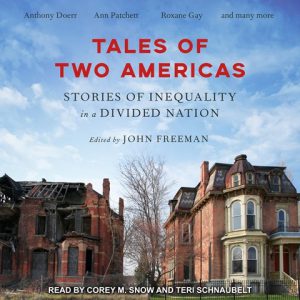 While the messaging in print and other media outlets is too often full of passion without mercy and chaotic conversations, the social issue audiobooks we hear are invariably more illuminating than divisive. Written persuasively by well-qualified authors, these audios tackle the foundations and nuance of today's social challenges and offer appealing ideas about how to handle them.
With audiobooks in this genre, the challenge for narrators is bringing the type of tone, attitude, and character that fits the energy and substance of the message. By carefully modulating their passion, a good reader draws listeners into a book's point of view instead of throwing hand grenades at them. Just watch a bit of political or local-access TV to get a taste of how bombast and an untrained voice can ruin an idea.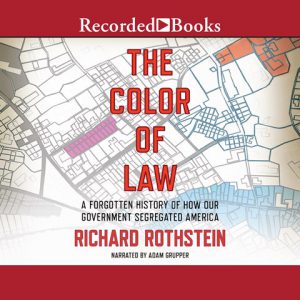 Vocal talent and attitude are important in any type of audio performance, but when it's a book about an important social challenge, a professional performance can be the difference between a cause that we make room for in our lives and one that makes us want to run out of the building.
THE COLOR OF LAW
by Richard Rothstein, read by Adam Grupper
Recorded Books
AudioFile Earphones Award
With confidence and clarity, narrator Adam Grupper describes past discriminatory laws governing the agencies that have shaped African Americans' ability to gain wealth, health, education, and voting power in the past and today. While not easy listening, it is compelling, convincing, and essential to understanding where we are today.
TALES OF TWO AMERICAS: Stories of Inequality in a Divided Nation
Edited by John Freeman, read by Teri Schnaubelt, Corey M. Snow
Tantor Media
The poems, short stories, and essays collected here address the complicated and interconnected issues affecting America today: income inequality, racism, homelessness, immigration, police violence, and more. Teri Schnaubelt and Corey Snow alternate the narration between personal and journalistic stories in this heartbreaking and yet hopeful collection.
TRANSGENDER HISTORY, SECOND EDITION: The Roots of Today's Revolution
by Susan Stryker, read by Emily Caldwell
Hachette Audio
The new edition of the 2008 text takes listeners through the major events and people involved over the course of transgender history in America, from the mid-twentieth century to the present. This audiobook has incredible relevance today as transgender individuals continue to fight for their rights.
THE MOTHER OF ALL QUESTIONS
by Rebecca Solnit, read by Tanya Eby
Tantor Media
AudioFile Earphones Award
Solnit's powerful essays on feminism are clearly conveyed with Tanya Eby's careful diction and smooth delivery. She captures Solnit's outrage, disbelief, occasional amusement, and rays of hope.
WHAT UNITES US: Reflections on Patriotism
by Dan Rather, Elliot Kirschner, read by Dan Rather
HighBridge Audio
AudioFile Earphones Award
Dan Rather challenges listeners to practice empathy as they explore community, patriotism, and immigration, looking for the values that unite us. There is an undertone of emotion in his smooth delivery, revealing how much he cares for the subject.
WE NEED TO TALK: How to Have Conversations That Matter
by Celeste Headlee, read by Celeste Headlee
Harper Audio
Celeste Headlee narrates her audiobook on bridging the gaps that divide us through using strategies to ensure better communication. Her clear narration allows listeners to focus on her message of how to better connect as individuals through listening and sharing.
This post has been adapted from the original Learning By Ear column published in the Dec 2015/Jan 2016 issue of AudioFile Magazine.