If you've been aching to write a novel, poem, memoir, or perhaps a thriller about killing off your least favorite relative – aren't we all? – now's a good time to rush out for the newest book by Colum McCann, author of LET THE GREAT WORLD SPIN. His LETTERS TO A YOUNG WRITER is full of lovely advice to readers and writers of all ages and ambitions, and it's read by the master himself. His narration lends a personable voice to his warm words of advice for budding writers, and he reads and writes with humility, charm, and earnest good intention.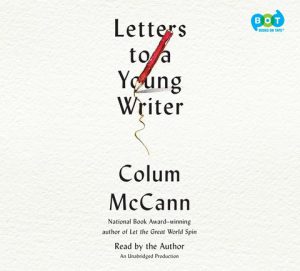 LETTERS TO A YOUNG WRITER: Some Practical and Philosophical Advice
By Colum McCann, Read by Colum McCann
Random House Audio
While we're on the topic of writers who've written about writing, the eighty percent of Americans who'd love to publish something – anything! – have even more listening possibilities. McCann is one of many authors who've offered pithy advice, and better yet, narrated the resulting audiobook. Here are a few of our favorites.
ON WRITING: A Memoir of the Craft
By Stephen King, Read by Stephen King
Simon & Schuster Audio
With this indispensable book, the king of bestsellers intended to put down his thoughts on writing. After explaining what's important (including good grammar), the celebrated author says to get down to the business – as he has for the last forty-odd years.
WRITING DOWN THE BONES
By Natalie Goldberg, Read by Natalie Goldberg
Sounds True
From the first moments of this classic work on writing and life, listeners know they are hearing something wonderful. Everything is read in what Goldberg calls her "New York Jewish voice" and is suffused with her quirky, delightful sense of humor. Learn more about Goldberg's experience recording WRITING DOWN THE BONES in our interview with her!
And we don't want to forget the audio program of one of Natalie's workshops, THE ART OF WRITING MEMOIR.
WORD BY WORD
By Anne Lamott, Read by Anne Lamott
Writer's AudioShop
If you're a writer, you need this audiobook. The sound of Lamott's voice will cheer you on in your darkest hours. As our reviewer put it, "she's the real thing–a successful writer–and she shares invaluable nuggets of wisdom about writing and the writing life."
Looking to sample some of the best writing these authors have to offer? Come to our site for more reviews of titles by McCann, King, Goldberg, and Lamott!