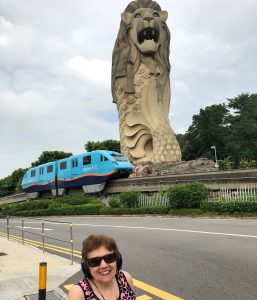 For the last couple of weeks, all eyes in the U.S. have been focused on Singapore, where Trump and Kim held their meetings on Sentosa (with its colorful monorail and Merlion statue). Having recently visited Singapore and stayed on Sentosa right next door to the hotel where the meetings were held, I can relate to the descriptions and pictures that fill the news screens. Singapore is hot and humid; it is a clean, rules-based, well organized country. While English is the national language, the country is truly multi-lingual. Everyone speaks their mother tongue, which might be Chinese, Malay or Tamil, Indonesian, Japanese, Filipino, or Thai, and then maybe some version of English.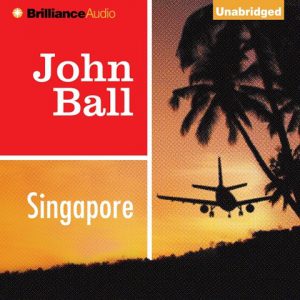 But when it comes to fiction books that reflect Singapore, and specifically mysteries, and further, those that have been published as audiobooks, the pickings are few. One standout is SINGAPORE by John Ball (Virgil Tibbs #7), narrated by Dion Graham. (Yes, the Virgil Tibbs from IN THE HEAT OF THE NIGHT). While the book was published in 1986, this audio version was released in 2015. The book captures the complex multi-lingual, multi-cultural experiment that is Singapore. And for a mystery audiophile this is a great way to capture a feel for the city-nation from the perspective of the intelligent and thoughtful Virgil Tibbs, performed by the award-winning Dion Graham. Graham manages to perform characters in perfect English while conveying their mother tongues and cultures.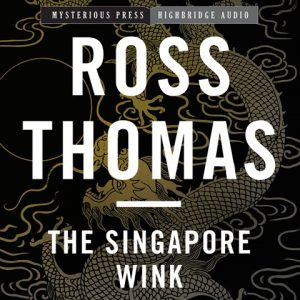 Another mystery which takes place in Singapore is Ross Thomas's THE SINGAPORE WINK, narrated by R.C. Bray. The story about a stuntman turned car salesman turned amateur private investigator starts In Singapore and comes back to L.A., but spends most of the action scenes back in Singapore.
While SINGAPORE NOIR, edited by Cheryl Lu-Lien Tan, is regrettably not available as an audiobook, we can listen to her novel, SARONG PARTY GIRLS. It's not a mystery, but this novel set in Singapore and narrated by Angela Lin provides a good sample of Singlish (Singaporean English).
Wherever you listen to your audiobooks, you can take advantage of the opportunity to tune in to Singapore, without having to travel the many, many hours it takes to get there. The joy of audiobooks!