There's something special about discovering an author with their debut. You can be torn between taking a chance on someone new—let's face it, committing hours of your time is a big deal—and finding the "next big thing." In the world of mystery audiobooks, especially, there are so many long-running series (and longtime author-narrator partnerships) that we can count on new books coming out from our favorite authors on a regular basis. We're creatures of habit, and we like what we know and are already comfortable with. However, in the case of audiobooks, sometimes a narrator can help nudge us in the direction of that discovery. If I know I enjoy listening to a particular performer, I'm more likely to take the plunge. How about you?
Have you discovered a new author, or even a new-to-you author, who you've checked out recently on audio? Did the narrator help you decide to listen? Or maybe you got a recommendation from a friend? What prompted you to take a risk on a new (to you) author?
Being a fan of Peter Berkrot's work, I was immediately intrigued when I saw that he was narrating William L. Myers, Jr.'s debut audiobook, A CRIMINAL DEFENSE. Combine that with AudioFile's glowing review, and I'm ready to try A CRIMINAL DEFENSE for myself! How about you?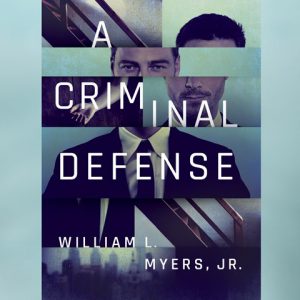 A CRIMINAL DEFENSE
by William L. Myers, Jr., Read by Peter Berkrot
Brilliance Audio
AudioFile Earphones Award