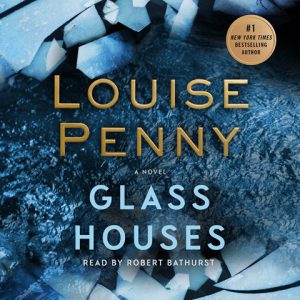 I have a confession to make. I sometimes listen to series out of order on audiobook. As a matter of fact, I recently finished Louise Penny's GLASS HOUSES—but I haven't listened to the previous two installments in the series. I know some of you are gasping in horror. There was a time I would have done the same thing. As I started doing more and more reviewing, my list of absolutely-must-listen-in-order started to get shorter and shorter.
I still adore Louise Penny's Three Pines series, which seems to grow better with each book. And starting a new one is like visiting old friends. But my schedule—especially in August—doesn't always permit me a lot of extra time for books and audios I'm not assigned to review. So I've ended up reading some out of order.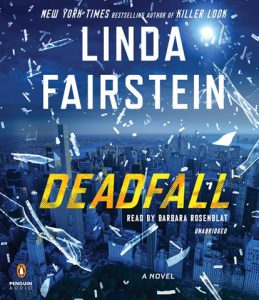 Another series I recently dipped into—out of order—is Linda Fairstein's Alex Cooper series. I love visiting New York with Linda Fairstein. The first time I physically visited New York, I marked my trip by seeing locations from her books. When I listened to her new audio, DEADFALL, there were a few series surprises for me, but I found myself getting back into the swing of things rather quickly. I am inspired to back up and find out when and how those surprises transpired, though.
On a rare occasion I've discovered a series by starting with an audiobook other than the first in the series. The Spellman Files series immediately comes to mind for me in this category. I started out with REVENGE OF THE SPELLMANS. It was the one available in my library at the time. After listening to it, I made my poor librarians track down all the others so I could listen to them all right away.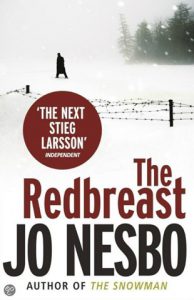 When I listened to Jo Nesbø's THE REDBREAST, I was ignorant of the fact that it was actually the third book in the series. It was the first translated to English in the United States, and I didn't learn that fact until I was two more audios into the series. First or third didn't matter. I was still hooked.
Most long-running series writers craft their plots so that the books can be read or listened to out of order. There are always benefits to following along the way they were originally published, but you aren't going to end up truly lost. However, where I still won't read out of order is in a short series, like a trilogy. Those tend to be one main plot broken up into three installments. They often end with cliffhangers, and listening to the second audiobook before the first is most likely going to ruin the suspense of the first. Sean Chercover's fabulous Daniel Byrne trilogy is a great example. While they're far more rare, a serial novel like Stephen King's THE GREEN MILE would be the same situation for me.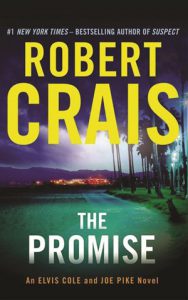 I've had to slowly relinquish my death grip on listening in order, but there are a few series I still clear the calendar for. I'm fairly certain I'd start going into withdrawal if I went more than a year without Walt Longmire. And Elvis Cole ignited my love of crime fiction, so I simply can't miss an opportunity to reconnect with him.
I don't regret the changes I've made in my listening habits. It's allowed me to discover some amazing debuts and new-to-me series, as well as great standalones. And I have a running list of all the gaps in my listening. One day . . . some day . . . I just know I'll catch up on them all. Hey! A girl can dream.
How about you? Have you listened to a series out of order? What was the scenario that caused you to veer off the path of series order? Or are you absolutely adamant that you must listen in order, no exceptions? Let us know in the comments!