To all those observing today, I'd like to wish you a Merry Christmas! I hope your holiday is filled with joy and love, that you're surrounded by friends and family—or if you're like me, that you're getting some down time to quietly enjoy your audiobooks.
Christmas is a popular setting for crime novels, believe it or not. In the festively fun new collection of short stories from SoHo—THE USUAL SANTAS—Peter Lovesey explains why in his foreword: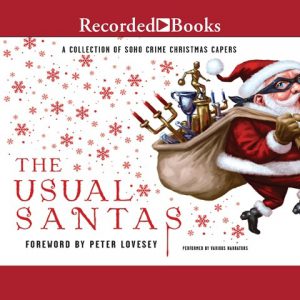 "The seasonal shopping spree provides rich pickings for thieves and fraudsters. Well-stocked stores become tempting targets for stick-up men and shoplifters. Pockets are picked, shoppers mugged, cars broken into and Christmas tree plantations raided. Cyber criminals relieve the unwary of their savings. Scam emails masquerade as greeting cards. Empty homes ransacked. Drink-fueled assaults are common. And even when the run-up to the holiday ends and the streets become more peaceful, domestic violence increases behind locked doors. Family feuds are revived by stressed-out, not-so-merry merrymakers. All of this is rich material for crime writers."
That particular anthology offers a wide variety of crime to indulge in during the season of peace and joy. While the characters may be breaking all kinds of laws and leaving plenty of death in their wake, the authors who contributed created a lovely gift for all of us crime junkies. When you tire of the endless loop of Christmas carols, you can flip over to shifty Santas, Christmas murders, and holiday hoopla.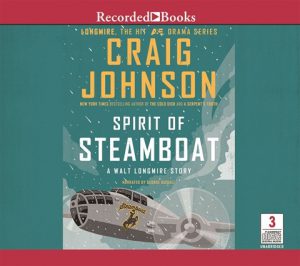 Timothy Hallinan has a short in THE USUAL SANTAS but he also has a full Christmas novel, FIELDS WHERE THEY LAY. It's part of his hilarious Junior Bender series. In this installment of the series, the burglar extraordinaire is hired by Russian mobsters to solve a holiday shoplifting problem in the local mall. Where Junior goes, mayhem isn't far behind. Peter Berkrot narrates this series, and the pairing is perfect. So deck your halls and then kick back with some eggnog and Junior Bender.
While Craig Johnson's WAIT FOR SIGNS collection contains a number of Christmas short stories, his novella SPIRIT OF STEAMBOAT also takes place on Christmas Eve and tells the tale of a very special holiday gift. George Guidall narrates both these little gems, and what could be a better present to yourself than having George Guidall read to you?
Fans of Louise Penny's The Three Pines series will recall that A FATAL GRACE has a Christmas backdrop. If you haven't experienced this series yet, let Ralph Cosham give you a Canadian Christmas.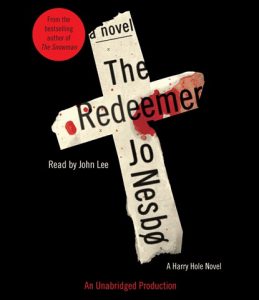 From Canada you can head to Norway, where Jo Nesbø has a dark holiday tale for you in THE REDEEMER. John Lee performs the excellent narration, sure to bring a winter chill to your Christmas.
Chris Grabenstein wrote a pair of holiday thrillers a handful of years back: SLAY RIDE and HELL FOR THE HOLIDAYS. Jeff Woodman, who narrates his John Ceepak series, reads SLAY RIDE but Christian Rummel took the reins in HELL FOR THE HOLIDAYS.
For those who favor noir, Ken Harmon's THE FAT MAN read by Johnny Heller may be the Christmas ticket for you. Elf Gumdrop Coal is framed for murder at the North Pole. A little noir, a little satire, a lot of fun.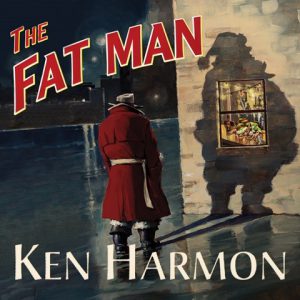 For those who like their Christmas mysteries a little softer, there is a new release from Donna Andrews in her Meg Langslow series this year: HOW THE FINCH STOLE CHRISTMAS. Andrews has several previous Christmas mysteries as well: SIX GEESE A-SLAYING, DUCK THE HALLS, and THE NIGHTINGALE BEFORE CHRISTMAS. This series is narrated by Bernadette Dunne.
This season isn't just for THE NIGHT BEFORE CHRISTMAS or A CHRISTMAS CAROL (though if you are looking, try this rendition!). Sometimes our traditions can be a little more crime-riddled. How about you? Do you have a favorite Christmas mystery? Here's hoping you have an opportunity to enjoy it this year. Merry Christmas to all, and to all a good crime story!