The Catholic Church's election of a new pope epitomizes mystery for the vast majority of the world, and Robert Harris takes advantage of that fact in his new audiobook, CONCLAVE, narrated by Roy McMillan.
Harris weaves in power struggles, politics and puzzles to captivate the audience in this suspenseful pontiff selection. Narrator Roy McMillan takes full advantage of the opportunity to display his range. While not strictly miraculous, his transformation of Cardinal Lomeli, the protagonist, from dispirited to Spirit-filled is most certainly charismatic. And Earphone award-worthy.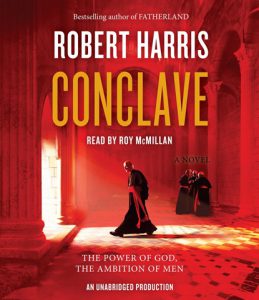 CONCLAVE
by Robert Harris,
read by Roy McMillan
Random House Audio
AudioFile Earphones Award
Read AudioFile's full review and listen to a sound clip here, or browse more reviews of Robert Harris's audiobooks.
Browse all of our newest mystery reviews to find your next great listen!