When I tell people how much I enjoy listening to audiobooks, I often receive the response, "I can't listen to audiobooks. I can't pay attention." I thought the very same thing at one time. Now I constantly want someone to be telling me a story.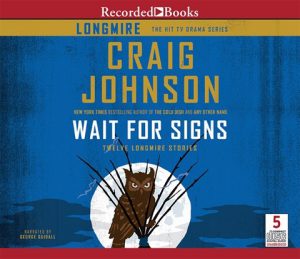 Listening to audiobooks is a skill, just like reading print books. Even though we eagerly listened to adults telling us stories as small children, somewhere along the way, we lost the knack for listening—personally, I blame it on television, but that's a different blog post. Never fear, though. Listening skills can be dusted off and honed back into shape. One of the ways I recommend people work on their listening skills is with short audios, and lucky for us, there are great short works of crime fiction available.
About once a year now, I listen to Craig Johnson's WAIT FOR SIGNS. This collection of Walt Longmire shorts is described by Johnson as the stories between the novels. He develops his well-loved characters in funny, heart-warming, and engaging short stories. It's probably my favorite collection to recommend to someone just starting to listen to audiobooks. I often recommend it as the introduction to the Longmire series as well. When you're confident listening to these short stories, you can move on to his novellas—THE HIGHWAYMAN and SPIRIT OF STEAMBOAT. Same great style, in a slightly longer format. By the time you finish these two, you'll be ready to listen to the novels. All of Johnson's work is narrated by George Guidall. There hasn't been one time I've attended a book event for Craig Johnson when at least one member of the audience hasn't gushed about how much they love the series on audio. There's a good reason for that.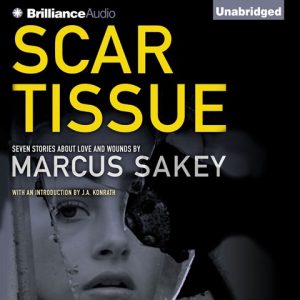 My personal listening experience doesn't bring many great author-narrated books, but one is a collection of shorts written and narrated by Marcus Sakey—SCAR TISSUE. One factor that makes learning to listen to audiobooks through listening to crime fiction such a good idea is their mystery element. You get sucked into listening to learn who did it, what happens to the bad guy, and if justice will prevail. With Sakey's short stories, that tends to be the secondary reason. The skill and beauty of his art is nearly impossible to resist.
If you really need constant change to keep your attention, an anthology of different authors' stories read by multiple narrators might be a better choice. Collections such as MATCHUP, which partnered a male and female writer for each of the stories in the anthology with top-notch narrators to read them, and ECHOES OF SHERLOCK HOLMES, stories inspired by the great investigator, are excellent compilations from a wide variety of the genre's most popular authors. Both the Thriller Writers of America and the Mystery Writers of America organizations have excellent anthologies available on audio.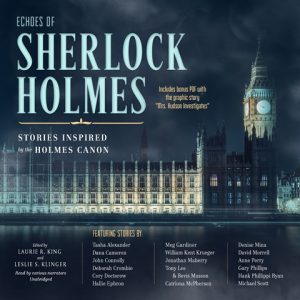 Whether you're a fan of Lee Child (THREE MORE JACK REACHER NOVELS), Agatha Christie (THE MYSTERIOUS MR. QUINN), Stephen King (JUST AFTER SUNSET), or Ian Fleming (FOR YOUR EYES ONLY), there are gripping, fun short stories with expert narrators just waiting to help you hone your listening skills.
And by the way, if you're already a seasoned listener, short stories are perfect for those short drives or quick work-outs. Have you given them a try? If so, what's the last short story that really resonated with you?