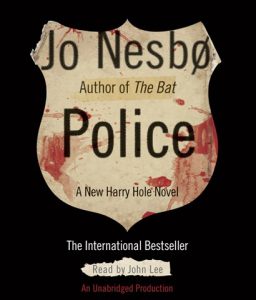 Last week I blogged about listening to a debut so this week I'm turning to the tried and true. We all have those series we love, and we start anticipating the next installment roughly 30 seconds after finishing the current one. If you're a mystery lover, it's darned hard not to have a plethora of such series. For me, one of those is Jo Nesbø's Harry Hole series.
I have enjoyed most all of Nesbø's books, but I'm especially fond of his Harry Hole series, maybe partly because that's how I discovered Nesbø and maybe partly because the narrators have consistently performed these audios so well. This is a rare series situation where I enjoy the narrations of both Robin Sachs and John Lee equally. While their interpretations of Hole are distinct, each is true to Nesbø's hero.
The series was published a little irregularly in the United States. We were introduced to Hole with the third of Nesbø's series, THE REDBREAST. Ultimately, though the first (THE BAT) and the second (COCKROACHES) were recorded for U.S. listeners. So if you're new to the series, you can listen in order. The first two books are great, but even better if you don't have the knowledge of the end of the series ahead of time.
This month Harry Hole returns in THE THIRST. It's been a few years, and several standalones from Nesbø, since we last visited the flawed Norwegian cop-turned-private-investigator in POLICE, and I've been anticipating him every second since. Have you?