When a narrator and an audiobook series fit perfectly together, the union can be a true work of art. It melds the author, performer and audience in a marriage of entertainment; not just a one-night stand, so to speak. They're in for the long haul. That's exactly the case with James MacPherson and Ian Rankin's Inspector Rebus series.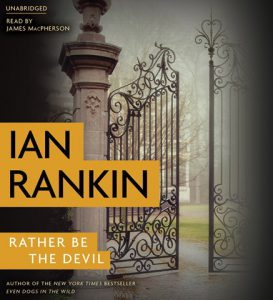 RATHER BE THE DEVIL
Ian Rankin, read by James MacPherson
Hachette Audio/ Blackstone Audio
AudioFile Earphones Award
MacPherson has been with the series since the very beginning. He knows Rebus's tics and peculiarities as well as his distinctive humor and mannerisms. So when you've got a good thing going, why change it? MacPherson is back to read RATHER BE THE DEVIL, the 21st John Rebus novel from Rankin, and it's a winner—an Earphones winner.
Those unfamiliar with the series can jump in easily at this book, but the excellent pairing will certainly have you checking out the backlist as well. Series fans are sure to enjoy their newest visit with an old friend. Still not sure? Check out this fun interview (above) with the two men responsible for this award-winning audiobook series.
Read AudioFile's full review and listen to a sound clip here. or browse more reviews of Ian Rankin's audiobooks.