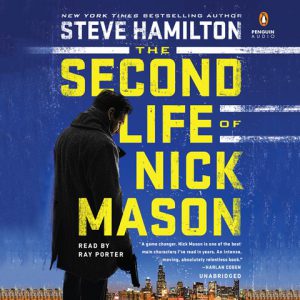 Ray Porter is an amazing performer, and his strong voice is never more convincing than in the narration of a crime audiobook. Covering some of the grittiest crime novels from the likes of Don Winslow and Jonathan Maberry, he brings the dark atmosphere and constant threats with a subtlety that chills readers to their core. So when I learned he would be giving voice to Steve Hamilton's new series featuring Nick Mason, a man released from prison but indebted to a criminal kingpin, it seemed a natural choice.
Porter proved that he was indeed the right narrator in the first book of the series, THE SECOND LIFE OF NICK MASON, which earned him an Earphones Award. Now he's returned for Hamilton's high-octane follow-up, EXIT STRATEGY, where Mason is tasked with infiltrating the federal witness protection program while trying to dodge an assassin who has Mason in his sights.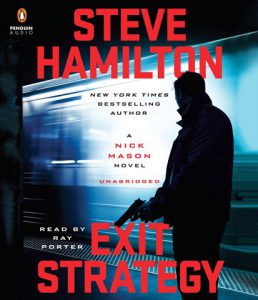 If you haven't checked this series out yet, now's the time. With only the second book published, you'll get in on the ground floor of an intense, fresh crime series from one of the genre's greats. Fans of Hamilton's Alex McKnight series or his Edgar Award-winning standalone, THE LOCK ARTIST, already know the man's got serious writing chops. But those unfamiliar with his work are sure to be pleasantly surprised by this action-packed series.
Porter and Hamilton make an excellent team on this audiobook series. Here's hoping there will be plenty more to follow.