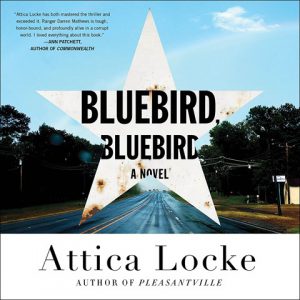 Our fine editors at AudioFile Magazine have hemmed and hawed and pulled some hair (mostly their own) to come to a consensus on the Best Audiobooks of 2017! If you haven't had a chance to check out the complete lists—they're broken down into genre categories—you can do so here.
The mystery choices are good ones, including some of my personal favorites: Louise Penny's GLASS HOUSES, Jo Nesbø's THE THIRST, and Craig Johnson's THE WESTERN STAR. You can see the whole list here.
I'm especially excited to see Attica Locke's BLUEBIRD, BLUEBIRD on the list. I mentioned Locke's newest, narrated by JD Jackson, in my celebration of crime fighters post back in October, and I'm excited to share this fun Behind the Mic video from JD Jackson. He says BLUEBIRD, BLUEBIRD read like a "brown liquor blues song." Maybe he should be reviewing for us!
"This is an amazing mystery and suspense novel, but it's so much more than that. It's about regret, it's about honor, it's about redemption, and it's about racial tension that has festered in this small town."—Narrator JD Jackson
Please enjoy the video and be sure to check out AudioFile Magazine's Best Audiobooks of 2017. There's so much good listening in these lists. You can start stockpiling for the cold winter months coming our way. Happy Listening!