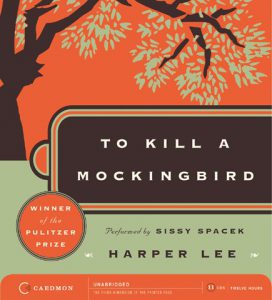 It's been about 15 years since I started listening to audiobooks regularly for my own enjoyment. Prior to that, I would use them in my high school English classes on occasion so my students could hear the pacing and stresses and dialects. Having Sissy Spacek perform TO KILL A MOCKINGBIRD for struggling readers opened many eyes and made a foreign time and place come alive for these students, many of whom had never left their city of birth, let alone the state of Ohio.
I also taught a reading class. We started every class by my reading to them from a current YA title. No fancy technology or bells and whistles, just me and a book in front of my students. A couple of times I was going to forego that part of the class because we were behind, and I thought we'd use the 20 minutes to catch up. I decided otherwise when the threat of mutiny was upon me. I still marvel at how much those teenagers loved someone reading to them, and I wonder when some of us lose that love and begin thinking it's a lesser way to enjoy a story.
Even having just shared that teaching story, I was among those people. Then after I left teaching and started a job requiring me to drive almost an hour each way to the office every day, I borrowed some audiobooks from the library. That forever changed my world of books and stories.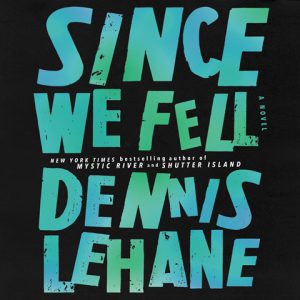 I've mentioned before that my transformation into an audiobook listener wasn't something that happened overnight. I had lost the ability to listen that my students still mastered so beautifully. And I had to re-learn the love of someone reading to me. It happened quicker than I anticipated but definitely not overnight. However, the learning also didn't stop once I loved listening in the car.
A lot of people will tell me that they only listen to audiobooks on long car rides, and this astounds me. I'm delighted they do it, of course, but I still remember distinctly when the car ride stopped being enough for me.
Have you ever made an extra drive around the block or taken a long way home so you could listen to just a little more? That's where it started. I would sit in my car an extra five minutes or so after I arrived home because I wasn't ready to turn the audiobook off. Then I started taking my CDs or iPod into the house and listening to a little more. And from there, I just searched for other times that were perfect for listening.
I quickly traded in my music playlist for a good thriller on the treadmill. While music is fun and the tempo is good to move to, exciting, heart-pumping plot lines like Dennis Lehane's new SINCE WE FELL keep my feet walking AND my mind busy. I don't start thinking, "This treadmill is boring." I can't, I'm too busy.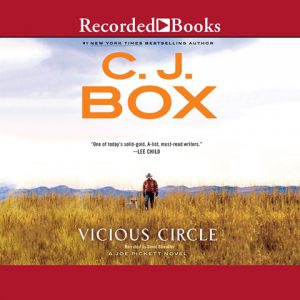 I'm an avid crafter. I crochet, sew a little (badly), and for years I was into scrapbooking—these days I've traded the scrapbooking time for editing my photography in Photoshop. Sometimes I would do these things while watching television, but it really only meshed well if I didn't need to look at the television. That wasn't often. But I didn't need to look at an audiobook, so I started listening and crafting instead. Any kind of audiobook is great while crafting, but my favorite addition to crafting is humor. I frustrate myself enough with the project; lightening up the experience is good for my blood pressure. So the current Walt Longmire installment, Louise Penny's newest Three Pines novel, or a Johnny Shaw title could definitely do the trick.
I hate housework. For so long I saw it as time that could be spent reading. Well guess what, it can be spent reading! So can yard work. I just pop my iPod in my pocket and my earbuds in my skull and make work fun. This has helped me finish shoveling snow on many a winter day when I would have preferred to say "the heck with it!" You can opt for good seasonal titles for your outdoor work, but I usually go with old friends, like Joe Pickett, Alex Cooper, or Elvis Cole. They make work so much less tiresome.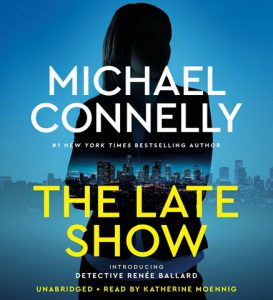 Finally, I listen to audiobooks when I walk my dog, Rufus. I like to let him sniff and investigate and just be a dog along the way. To help me keep from getting impatient with his dog detours, I bring along my audiobook. As he's discovering new scents and critters and experiences, I find new titles, series, authors, or narrators. As a matter of fact, maybe I'll give Michael Connolly's new detective, Renée Ballard, a try on our next outing.
How about you? When do you listen to audiobooks?
Find more new mystery reviews to listen to while you work in the garden on our site!