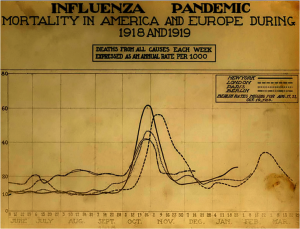 Did you know that the flu pandemic of a century ago killed more worldwide than World War I did? At a time when Americans are being urged to get annual flu shots and are making decisions about health insurance enrollment, audiobooks can help us learn about the history of the flu—and help us to better appreciate those working to forestall another pandemic.
Learn About Past Flu Seasons
Narrator Scott Brick sounds suitably horrified as he recounts the state of 19th-century medical research (i.e., there wasn't any) that laid the groundwork for the 1918 flu pandemic. THE GREAT INFLUENZA, by journalist John M. Barry, walks listeners through both the frail medical ethics and the lack of rigorous public health strategies that allowed the 1918 pandemic to spread among international military troops, only to be imported domestically around the world when peace was restored.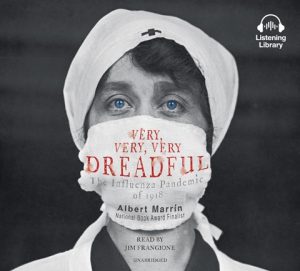 Stellar nonfiction author Albert Marin weaves together first-person accounts, historical medical records, and contemporary newspaper accounts to recount his VERY, VERY, VERY DREADFUL, setting the 1918 pandemic into the context of other worldwide disasters related to virus mutations and insufficient scientific knowledge and practice. Jim Frangione reads this all with appropriate emotion and authority, giving listeners the opportunity to experience both the history and the importance of research to combatting flu and understanding events.
Why Rational Responses Can Aid Better World Health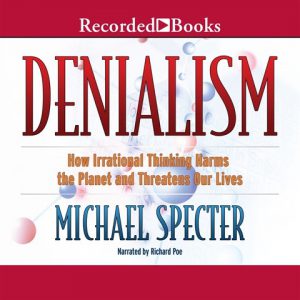 Not everyone who can and should makes the choice to go and get that flu shot. In some ethnic communities, there is historical reason to create doubt (consider, for instance the Tuskegee Experiment). However, a vaccine relies on herd immunization to protect the general population. Listen to Michael Specter's DENIALISM for a better understanding of the role of rationalism in personal health care. Richard Poe reads with clarity as Specter explores how ideology can impact both public and personal health. With Poe as a steady guide, listeners can grasp both Specter's evidence and motivations to improve thoughtful approaches to such matters as flu shots.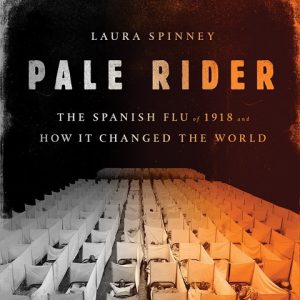 Laura Spinney's PALE RIDER, narrated by Paul Hodgson, celebrates how wise public health decisions in some places during the 1918 pandemic led, indeed, to better outcomes in their populations. Hodgson offers a reading that allows listeners to become engrossed in details of plague histories, health policies, and anecdotes that illustrate the power of decisions made during and after such disastrous outbreaks.
Get Covered for 2019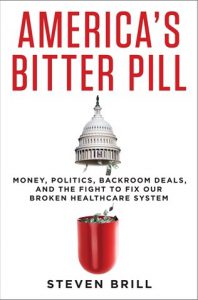 While flu outbreaks and flu vaccines are of international concern, the American health care system is unique—and perhaps uniquely controversial. Listening to Dan Woren read AMERICA'S BITTER PILL, by journalist and lawyer Steven Brill, makes the complexities of the Affordable Care Act's practical and political underpinnings accessible. As with the context of the flu pandemic, acquiring a context for the ongoing health insurance politicking can safeguard listeners against relying on feelings instead of rational understanding when making healthcare coverage choices. Woren sounds authoritative, just as Brill's work requires, offering tools to help listeners think clearly about their healthcare needs.
In Sum
Get your flu shot. Make your health insurance choice for the new year during the enrollment period. And be educated to make rational health-related choices with the help of these clarifying audiobooks.