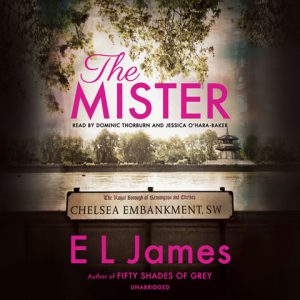 Well, "romance on the edge" was the idea for this column! However, I just finished up E L James's THE MISTER, and I think "slow build" is a better description of her newest contemporary romance. Long before Maxim and Alessia are in love, you will be in love with narrators Dominic Thorburn and Jessica O'Hara-Baker. They take on a calmer, slow-paced story (If you're expecting 50 SHADES OF GREY, this is not that), and they surround it with an elegant professionalism that will leave you impressed. After his brother's death, Maxim becomes the new Earl of Trevethick, and as he adjusts to his change in circumstances, he falls in love with his housekeeper, Alessia.
(Trigger warning and spoiler alert—Alessia escapes from human traffickers.) Did I mention that Alessia is Albanian and her friend Magda is Polish? I'm neither Albanian nor Polish, but I thought both narrators did a highly credible job keeping the accents and dialogue distinct. Yes, the text is sometimes difficult—Maxim thinks in first person while Alessia is presented in third person, and Maxim uses certain words so much that even Thorburn's prepossessing delivery can't quite overcome the repetition. But the narration is so well done that I would seek out this duo again for another memorable audio experience.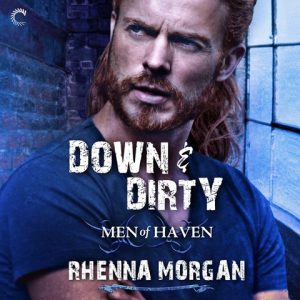 For another exciting listen, try DOWN & DIRTY. Narrator John Lane brings us book 6 in Rhenna Morgan's Men of Haven series, and this time it's Axel's story. Axel is part of a group of mercenary brothers-of-the-heart who each find love in Morgan's novels. Axel's gruff, dismissive nature finally gets its coup de foudre (the lightning strike of love at first sight) when he meets Lizzy and her band at a club. 
Our reviewer Stephanie and I both fell in love with this audiobook on a road trip together. Lane has a great timbre, and he conveys the alpha male persona very believably. If you're intrigued, go back and listen to the whole series from the beginning. Morgan's story is steamy, and Lane keeps the audio romance equally sweet.