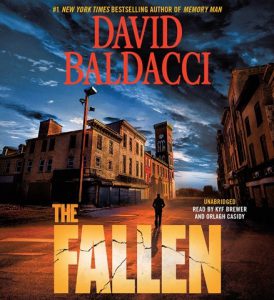 One of the things I love about being a reviewer for AudioFile Magazine is the opportunity to listen to new books I would not have chosen on my own. Frankly, I frequently find myself going back again and again to the same authors, narrators, and types of mysteries. Yet the mystery category covers many genres, including Cozies, Noir, Police Procedurals, P.I., Sherlock Holmes, Hard-boiled, Soft-boiled, Historical. And then there are Thrillers, Suspense, Horror, and Paranormal. And then there are sub-genres within all of these categories. The point is, with so many flavors, why stick with just plain vanilla or chocolate? Go for it—try something new and different.
While slightly out of my comfort zone, I have listened to and enjoyed David Baldacci's Amos Decker series, most recently THE FALLEN. I find the lead character Amos Decker intriguing and sympathetic. He is known as the "memory man" as he has the special ability to remember everything. The audiobook, read by Kyf Brewer and Orlagh Cassidy, solves the challenge of male narrators performing female characters and visa versa.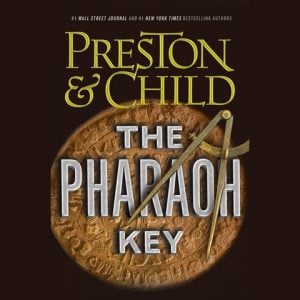 Although I am not drawn to adventure thrillers, listening to THE PHARAOH KEY, read by David Collins, was just plain fun, like going on a thrill ride at an amusement park. Now I can look forward to the diversion of the other books in the Gideon Crew series.
On a more serious note, listening to WHO IS VERA KELLY? provided a refreshing opportunity to experience a beautifully written tale of a women's self-discovery and acceptance of herself and her circumstances, masterfully narrated by Elisabeth Rodgers. Although it is about a CIA operative, it doesn't really fall into the spy thriller genre at all.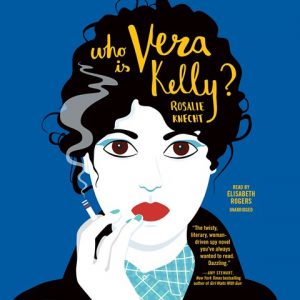 And then, a little secret, sometimes I need to step away from mysteries altogether and refresh my ears and brain by turning to nonfiction audiobooks. Learning by listening—a great way to build knowledge, challenge thinking, and work on self-improvement.  Recently I delved into the Audie Award winner in the Business/Personal Development category, PEAK PERFORMANCE. It's a great listen, providing solid research, and it has inspired me to challenge myself.
So go ahead and challenge your listening self—the stretch will be worth it.