Marissa Meyer's Renegades series comes to a dramatic end in SUPERNOVA. Narrators Rebecca Soler and Dan Bittner have co-narrated all three audiobooks in the trilogy, starting with RENEGADES and ARCHENEMIES and concluding with SUPERNOVA. Teens Adrian and Nova are on opposite sides of a long-running feud between the Renegades and the Anarchists, two very different groups of superheroes. Dan and Rebecca share why this is a series you'll want to jump in on, and how they came to be such a dynamic narrator duo.
"We met on the first book, so we've gotten to know each other a lot better, and we've gotten to know all these characters a lot better."—Narrator Dan Bittner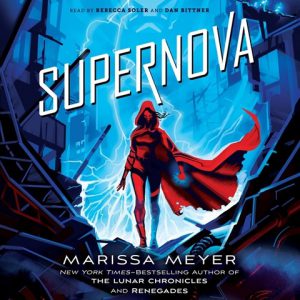 SUPERNOVA: Renegades, Book 3
by Marissa Meyer, read by Rebecca Soler, Dan Bittner
Macmillan Audio
Soler and Bittner are both good at emotional swings, which makes them the perfect dynamic duo for this audiobook. The two leads have secret identities, so Soler and Bittner must have several voices ready for each character. Additionally, there are some total innocents and some evil masterminds, and just by tone, listeners know who is who. Many times in audiobooks with multiple narrators and multiple characters, the narrators have individual takes on how each person should sound, and it can be distracting. That is not the case here, as the narrators are in perfect sync.
Find more audiobooks narrated by Rebecca and Dan in their audiographies.