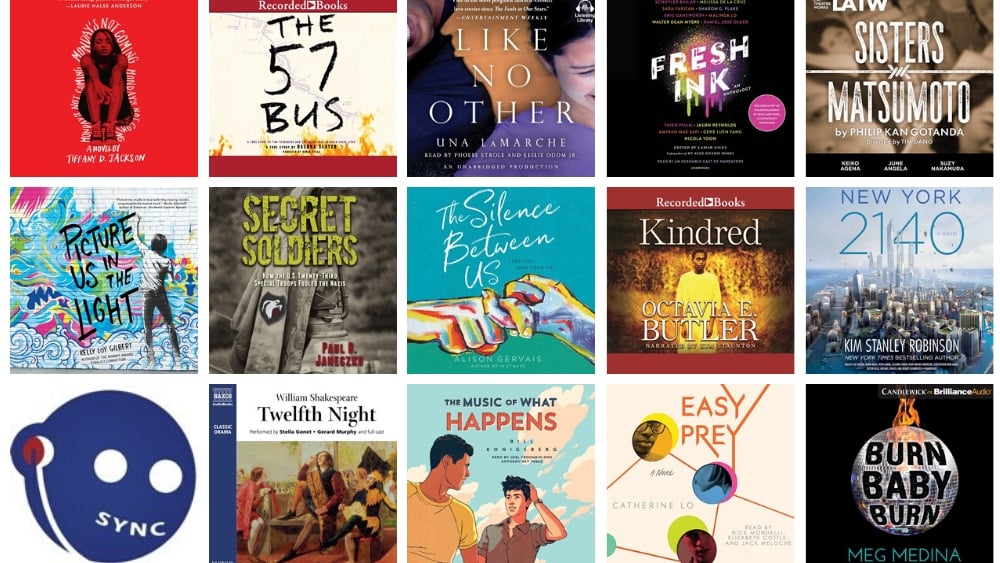 AudioFile is pleased to announce the launch of our 11th annual SYNC Audiobooks for Teens program! This summer we are partnering with OverDrive and audiobook publishers to share 13 weeks of FREE young adult audiobooks. Visit AudiobookSYNC.com to register and browse the full list of summer listening for teens, and to learn more about Sora, the student reading app used to share audiobooks this season. Teens can download two free audiobooks each week now through July 29 — the perfect way for your teens to get a jump on their summer reading, explore new genres, or start a stay-at-home book club with their friends. We encourage teachers, librarians, and parents to check out the full list of audiobooks and get your teens listening.
The first two audiobooks are available now until May 6: Tiffany D. Jackson's gripping novel MONDAY'S NOT COMING, read by Imani Parks, is paired with Dashka Slater's riveting nonfiction book, THE 57 BUS, narrated by Robin Miles. Hear more about THE 57 BUS audiobook from the author herself in this video.
If you want the inside scoop on this SYNC season, listen in as AudioFile's publisher Michele Cobb and our podcast host Jo Reed discuss the upcoming summer of free audiobooks on the Behind the Mic podcast. You'll hear clips of some of the titles Michele is most excited to share with teen listeners this summer, and learn more details about how to download each week's free titles.
Which SYNC audiobooks are you most excited to listen to this summer? Share in our comments! Stay up to date on SYNC Audiobooks for Teens on Twitter at @audiobookSYNC, on Facebook at SYNCAudiobooks, and on Instagram at @audiobookSYNC.