AudioFile created the SYNC program as an enhancement for teen learning experiences, including and reaching beyond literacy support. Each year the SYNC season's list of titles, and how they will be paired for each weekly giveaway, is published months ahead so that families, teachers, librarians, and others can identify how specific audiobooks, or specific pairs of audiobooks, can benefit program planning from April into next autumn. Once moved to each participant's Sora shelf, the audiobook remains available to them indefinitely, so events like post-listening discussions can be held well into the future. Just make sure to alert potential participants about your plans so that they are sure to shelve specific free audiobooks during the week they are available. Now is the right time to start helping teens and others register for the program so that they have access starting in Week 1.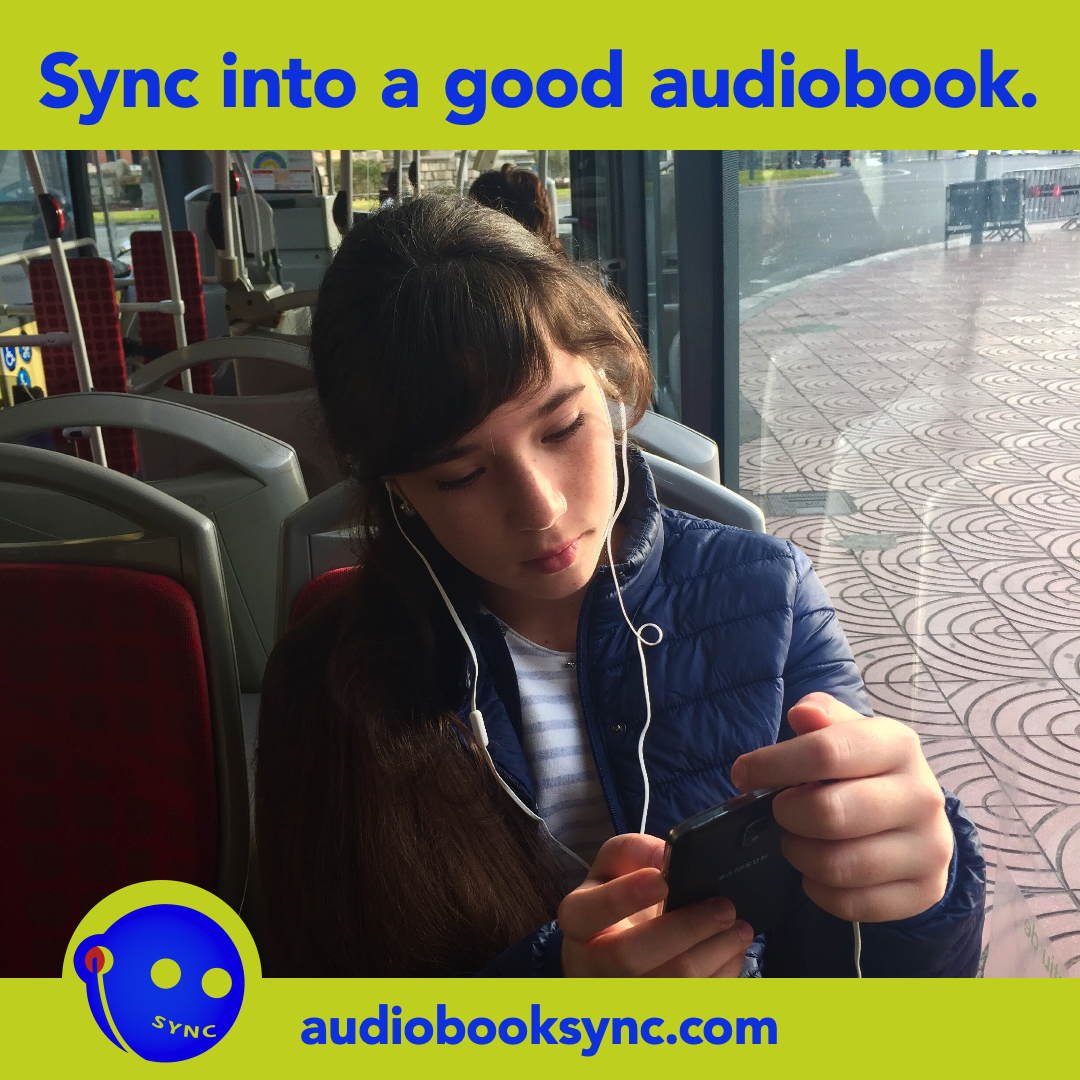 SYNC titles focus on the interests and needs of teens, and some titles skew older and some younger in terms of listener appeal. The SYNC program gives teens a real-life opportunity to curate a personal collection from the whole range of the season's options. Not every one of this year's 28 free audiobooks will—or even should—appeal to every listener. Some participants may look for new types of listening experiences, while others may be more comfortable with familiar performance types or content. We hope this range of preferences and taste can be honored at your local level.
How can you guide new audiobook listeners? We suggest:
Take 20 minutes to listen to the audiobook before deciding whether it "works" for you as a listener.
Always listen at the intended 1X speed; if that seems "too slow," you need to give it more time to unfold, or this title just isn't right for you. Try a different title, subject, or performance type
Remember that audiobooks from SYNC are available to move to your personal Sora shelf for just one week; however, you don't need to listen to them right away; find a good time to try one you are curious about.
Try listening at different times of day and while occupied in different ways—or while doing nothing else at all. Did you know that more than half of experienced audiobook listeners say that listening—without also multi-tasking—is rewarding?
Talk about the performance, including voice, pacing, and narration style, such as the difference between hearing a single performer and a full cast, as well as the content; this can help you develop better listening skills in life as well as in audiobook enjoyment.
The SYNC site provides a tool kit of posters, answers to frequently asked program questions, and links to the social media platforms where you'll find SYNC posts and updates.
To help you put some details into your program plans for using SYNC this year, here is the list of audiobook pairs, the dates of their availability for teens to move them to their personal Sora shelves, and the themes on which each pair has been matched:
April 27 – May 4 Freedom of the press, freedom of information
YOU CAN'T SAY THAT! with TOP SECRET
May 4 – 10 Classics reimagined for our time
THE FAMILY CHAO with FARAWAY
May 11 – 17 Learning to escape the shadows
THE SCHOOL THAT ESCAPED THE NAZIS with THE REPUBLIC
May 18 – 24 Magical creatures
THE KEEPER OF NIGHT with OUT OF THE BLUE
May 25 – 31 Thieves' tales
ARSÈNE LUPIN VERSUS HERLOCK SHOLMES with MASK OF SHADOWS
June 1 – 7 Remaking ourselves
POOR MATZA with THE TRUTH ABOUT WHITE LIES
June 8 – 14 Dangerous waters, dangerous shelter
HURRICANE SONG with FRACTURED TIDE
June 15 – 21 Weapons of war
June 22 – 28 Celebrate the rainbow's spectrum
LOVELESS with BEYOND MAGENTA
June 29 – July 5 Inventive people invite controversy
BUMP with THE WOMAN WHO SPLIT THE ATOM
July 6 – 12 Real life inspires phenomenal fiction
THIS REBEL HEART with THE BOY IN THE RED DRESS
July 13 – 19 Transformative legends
THE LANTERN'S EMBER with RED HOOD
July 20 – 26 Caught in another's game
THE GETAWAY with THE WONDERLAND COLLECTION
July 27 – August 2 Community power builds our future
FREEDOM! THE STORY OF THE BLACK PANTHER PARTY with NOT WITHOUT LAUGHTER