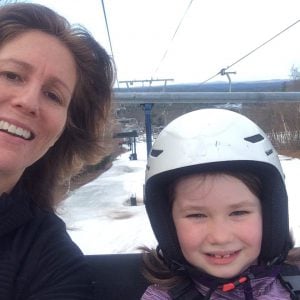 Do you have a favorite audiobook? I do, and it was narrated by none other than today's guest, Alyssa Bresnahan. You'll have to forgive a little fangirl giddiness as I introduce you to Alyssa and recommend five of her stellar audiobook performances.
I'm not alone in praise of her work; Alyssa has won many AudioFile Earphones Awards and has appeared on several of our best of the year lists, most recently for her performance of Charlie Jane Anders's ALL THE BIRDS IN THE SKY, which was an AudioFile best of 2016 Science Fiction & Fantasy pick.
5 Audiobooks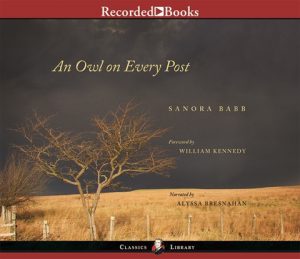 Each of today's featured audiobooks highlights Alyssa's talent for creating an evocative atmosphere and drawing the listener into the emotional heart of the story. For example, her performance of AN OWL ON EVERY POST—Sanora Babb's memoir of homesteading in the early 20th century on the eastern plains of Colorado—helps us feel the expanse of the prairie, the power of nature, and the strength of the pioneering spirit.
For the romance SAFE HARBOR by Christine Feehan, Alyssa conveys the main character's struggles to overcome a traumatic event and captures the complex dynamics of her relationships with her sisters. Our reviewer was also struck by Alyssa's ability to consistently portray a variety of characters, even during dialogue-heavy scenes.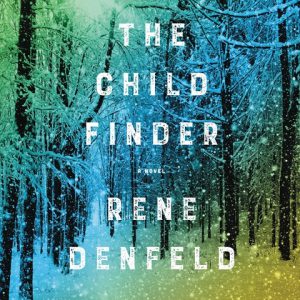 Rene Denfeld's THE CHILD FINDER involves the almost hopeless hunt for a little girl who disappeared in a winter forest almost three years earlier. Alyssa nicely met one of the tough challenges for this audiobook: to read disturbing descriptions of what can happen to abducted children with a pinpoint balance of drama and objectivity, allowing listeners to form their own reactions.
Spot-on characterizations highlight Alyssa's performance of Emily Croy Barker's THE THINKING WOMAN'S GUIDE TO REAL MAGIC, about a graduate student, Nora, who unsuspectingly crosses the border into an alternate world. Besides expressing Nora's confusion and then acceptance of her circumstances, Alyssa's delivery underscores the manipulative nature of a fairy queen, the scholarly bent of a magician, and the true personalities of a host of people Nora meets in this strange land.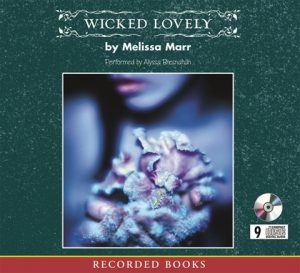 So what's my all-time favorite audiobook? That would be Melissa Marr's WICKED LOVELY, an urban fantasy set in Pittsburgh. My immediate reaction after I finished listening to Alyssa's performance was that I may have just heard the perfect audiobook. My opinion hasn't changed in the ensuing nine years, and I couldn't agree more with our reviewer, who wrote that Alyssa "casts a mesmerizing spell with her voice" and that "this wicked lovely story is a bewitching audio."
5 Questions
We listeners spend hours becoming familiar with a narrator's voice, but we often know very little about that person beyond her performances. Many thanks to Alyssa Bresnahan, who kindly agreed to set aside some time to answer five questions and give us a glimpse into her life.
AudioFile: Tell us something surprising about yourself.
Alyssa Bresnahan: For a number of years before our daughter was born, and before we were married, my husband and I lived on a boat in Redondo, Beach California. A 1950, 42-foot Chris-Craft. All wood!! For about 6 years.
AF: What are you doing when you're not working?
AB: When I am not recording an audiobook or doing other acting work that keeps me going in New York City, I am with our whirlwind fantabulous seven-year-old daughter. We also have two large dogs, usually wanting to go outside.
AF: Tell us about an embarrassing moment in the recording booth.
AB: I am a terrible speller, causing embarrassing moments to occur as I consistently mangle the English language (which, let's be honest, is not the most logical language to sound out!!).
AF: What's your go-to beverage when recording? How about after recording?
AB: I love to have a cup of tea when reading, to sip and also to hold (usually the studios get chilly with the AC running). Also the steam rising keeps the air around the mic a bit moist. In or out of the booth, I go for any kind of tea. I love tea.
AF: What do you never wear in the recording booth?
AB: The one article of clothing I can't wear in the booth is my 20-year-old leather pants because they make too much noise. This is really only a bummer in the winter, because they are my go-to for very cold days. They also generally help me feel young . . .
Thanks so much, Alyssa, for agreeing to Take 5 with me today. Although I drink coffee in the morning, I too love a nice cup of tea on a cold afternoon. To explore more audiobooks read by Alyssa Bresnahan, be sure to click through to her audiography page.