Today I welcome the versatile Robert Fass to the 5 Audios / 5 Questions hot seat. I say versatile not only because Robert's audiobook catalog covers a wide range of genres but also because he's dipped his toe into the audiobook publishing pool as well (IT HAPPENED IN BOSTON?).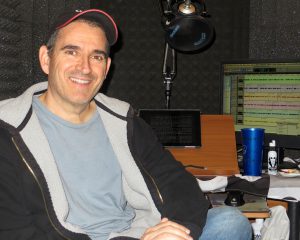 5 Audiobooks
One of Robert's strengths as a narrator is creating a strong link between listeners and author, especially for nonfiction. For example, his performance of the personal essays in THE FLY TRAP highlights entomologist Fredrik Sjöberg's personality, enthusiasm, and wry humor, making us feel as if we had just made a new friend. Robert's delivery of Henry Fountain's THE GREAT QUAKE, about the 9.2-magnitude 1964 Alaskan earthquake, helps us absorb the unthinkable devastation as described by eyewitnesses but wisely backs off the melodrama.
Robert's AudioFile Earphones Award–winning performance of JOE GOLEM AND THE DROWNING CITY, by Mike Mignola and Christopher Golden, demonstrates how a good narrator can bring out the best in a novel. As our reviewer of this alternate history story said, "If the book is a B-movie horror story, Robert Fass's narration makes it an Oscar-worthy movie."
Narrators are often faced with rendering foreign accents and cross-gender dialogue; get them right and the audiobook sings; stumble and listeners are pulled straight out of the story. Robert meets these challenges well, as demonstrated by his work on Charles McCarry's THE MULBERRY BUSH, for which he deftly gives voice to characters hailing from the Americas, the Middle East, and Russia and creates a "delicate" and believable tone for the Argentinean female lead. For Francisco Goldman's autobiographical novel SAY HER NAME—which  won an Earphones Award and an AudioFile's Best Fiction of 2011 nod—Robert transitions smoothly from English to Spanish, all the while keeping the emotional tension taut and the pacing on track.
5 Questions
We listeners are introduced to audiobook narrators through the characters they portray, but of course—surprising as it may seem—they have a life beyond our earbuds. Many thanks to Robert Fass, who agreed to Take 5 with me and answer five questions about his life in and out of the recording booth.
AudioFile: What genre will you always say no to (or yes to) and why?
Robert Fass: I always reserve (though I rarely exercise) the right to say no, but I will pretty much always say yes to a memoir. I love first-person narrative whether it's fiction or nonfiction. And for me memoirs tend to have an honest emotional underpinning that makes it particularly inviting and engaging to inhabit as a narrator.
AF: Tell us something surprising about yourself.
RF: Hmmm, let's see . . . I could mention that I was once a UPS driver during the coldest recorded winter in Minnesota history (wind chill was 55 below zero!) . . . or that I was the original bass player in DC's punk/new wave surf band, Insect Surfers . . . but I'll go with the fact that I've been lucky enough to earn several artist fellowships over the years in the United States and abroad—both for fiction writing and photography. My 2005 photo essay on marriage in America got some great media exposure internationally and allowed me to exhibit in a number of European galleries (at one of which I happened to first lock eyes with the woman who is now my wife of ten years). On the writing side, I've got a rather ambitious novel that's 80% completed and currently living in a file drawer. I hope to find the time to finish it one of these years—right now, I'm too busy reading!
AF: What's your go-to beverage when recording? How about after recording?
RF: I'm never without a water bottle (room temperature) and a cup of Throat Coat tea in the booth. (I drink from plastic containers, ever since the day I spent 30 minutes trying to find the source of an occasional high-pitched sound in my headphones and eventually discovered that my ceramic teacup was resonating whenever my voice hit a certain note! Singing teacups belong on Broadway, not in the booth.)  After recording? It might be a wee dram off the single malt scotch shelf.
AF: Is it difficult to avoid foreshadowing, especially when recording a book with a twist?
RF: It certainly can be, depending on the challenge the author presents to you. One common example is when—often in a mystery or thriller—a scene occurs in which the voice of the unidentified baddie is heard, long before the reader is meant to know who that person is. But that voice, when it's revealed at the climax, turns out to be a character who's been a player in the story all along. If that known character is described as having a distinctive vocal trait (heaven help you if it's a thick accent or a stammer!) the narrator has to resolve a dilemma that's non-existent in the print version.  But if you prepare properly and avoid making vocal choices that paint you into a corner, you can successfully navigate those moments in a way that doesn't tip the author's hand, keeps the listeners guessing, and allows them to still savor those juicy twists when they arrive.
AF: What do you never have with you or never wear in the recording booth?
RF: Anything with the potential to make unwanted noise. I love sparkling water, but the mic picks up the fizz so that's out; likewise, I never wear fabric like linen or silk in the booth; you'd hear the rustling every time I moved my arms or shifted my weight.
And my Borsalino stays outside as well. (My headphones would crush the brim!)
Thanks to Robert Fass for bringing so many stories alive for us and for taking the time to answer my questions. To discover more audiobooks performed by Robert, explore his audiography page. If you're itching for baseball season, hop over to his Behind the Mic video for OUT OF MY LEAGUE.