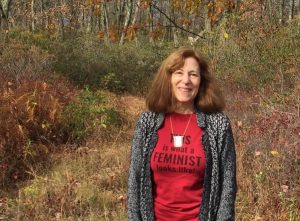 Most people think audiobooks are a 21st-century way to read, so when I'm asked how long I've been listening to audiobooks, I like to answer, "I was listening to books on tape when they really were on tape." I've gone through the gamut of technology, from portable cassette and CD players to boom boxes to mp3 devices to my current favorite: my smartphone.
I started reading with my ears to give my eyes a break after hours at my day job as a full-time freelance book editor. Over the decades, I've listened to thousands of audiobooks, taking advantage of every free moment to hear just a little bit more of the story.
I can't remember my very first audiobook, but I know I was hooked almost immediately and became a strong advocate for the medium. On my own blog, Beth Fish Reads, I've written more than 500 posts covering audiobooks since 2008, and I've been a reviewer for AudioFile magazine for about 7 years as well as for other venues. My biggest thrill as an audiobook lover came in 2016, when the Audio Publishers Association named me Audiobook Blogger of the Year, and I had the chance attend the Audies awards ceremony.
As one of audiobooks' biggest fans, I'm looking forward to sharing my listening life with you. Every other Wednesday, stop by the AudioFile blog and "Take 5" with me. In this space I'll make recommendations for a wide range of listeners, suggest titles to help celebrate the seasons, share some quirky connections among audiobooks, and introduce you to the narrators who bring the books alive.
I always love to talk about audiobooks, so feel free to contact me on Twitter or Litsy, where I'm @BethFishReads, or on my blog, also Beth Fish Reads.