Last year, about 40% of Americans surveyed reported that they usually make New Year's resolutions. The most common resolutions, according to several sources, have to do with health and fitness. But many people also hope to make smarter financial decisions, find more happiness, be more organized, and have new experiences.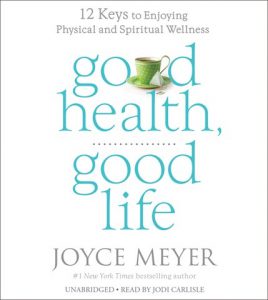 Regardless of whether we make formal resolutions, most of us consider the new year as a chance for fresh starts. Yet, no matter how optimistic or determined we seem, few of us manage to follow through and accomplish our goals. What can we do to better our chances of success?
According to Psychology Today, "the most important factor in predicting success [is] the belief in one's ability to get the job done." One great way to gain self-assurance and chart a path to victory is to take time to learn from the experts.
Here's where audiobooks come to the rescue. There's an audiobook for helping you succeed at almost every New Year's resolution, from improving health or finances to getting a handle on time management. The audiobooks I recommend in today's Take 5 focus on popular self-improvement goals; if your 2018 goals are different, be sure to search our Personal Growth review database to find the perfect audiobook for your own needs.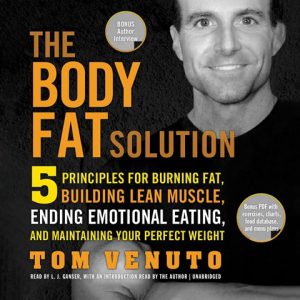 Losing weight and improving fitness are by far the most common New Year's resolutions, probably because it's so difficult to navigate conflicting advice and assess the latest fads. Tom Venuto's THE BODY FAT SOLUTION offers a practical guide to commonsense eating and exercising that you can commit to for the long term. Narrator L. J. Ganser "is in rare form," giving this life plan for good health "unforgettable impact."
If one of your goals is to strengthen your spiritual well-being along with your body, you'll want to listen to GOOD HEALTH, GOOD LIFE by Joyce Meyer, whose 12 keys to a healthier life mix solid science with a Christian perspective. Jodi Carlisle's Earphones Award–winning performance is "both compelling and satisfying."
Is your basement filled with half-done projects? Are you better at starting new ventures than seeing them through to the end? Make 2018 the year of completion with help from Jon Acuff, author and narrator of FINISH. Acuff's "humor and sincerity" are evident as he presents easy-to-follow strategies to help you clear the hurdles so you can finish what you start.
For many of us, a new year offers new energy for getting ahead on the job. In OWN IT, Sallie Krawcheck outlines the unique issues women face in the business world and offers a down-to-earth guide on how they can harness the power of a changing society to make it to the top of their career. Narrator Ellen Archer "perfectly captures" the author's passion and authority. For more insights into the making of this audiobook, visit her Behind the Mic video shared earlier this week.
In this ultra-connected world, who hasn't resolved to have less stress and more happiness in the year to come? Easier said than done? Not according to Kaia Roman, who shares her 30-day strategy for overcoming despair and finding happiness. Narrator Christina Moore "inhabits the soul" of THE JOY PLAN, which combines the author's personal experiences with biological research to help listeners turn their harried lives around.
If you've never listened to a personal growth, health, or business audiobook before, I have two tips. First, don't listen to the entire audiobook in one go. Take your time, stopping the audiobook at the end of logical sections so that you have the chance to absorb and think about the material. Second, be sure to check your CDs or download site for additional materials. Some self-improvement titles come with free downloadable and printable files to help increase your chances for success.
What's your top New Year's resolution?