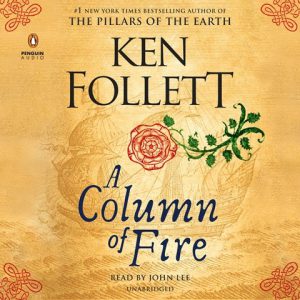 Have you noticed that this year's books have been on fire? It seems every time I turn around, there's another audiobook with the word fire in the title; in fact, there are LITTLE FIRES EVERYWHERE (Celeste Ng). From kids' stories to fantasy and politics, 2017 has been the year of the red-hot audio. Want to share in a little of the heat? Here are 5 audiobooks across the genres to get you started.
Historical fiction listeners should put A COLUMN OF FIRE at the top of their audiobook list. The combination of author Ken Follett's complex storytelling with narrator John Lee's believable characterizations and "crisp, rich" delivery can't be beat. The audiobook is the third in a series about the people of Kingsbridge, England, but can easily be enjoyed as a standalone journey back to the 1500s.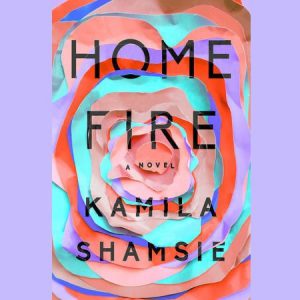 If you're drawn to fiction that deals with contemporary themes, HOME FIRE, written by Kamila Shamsie, should be your next listen. Tania Rodrigues's sensitive portrayal of the members of a British Muslim family who are variously caught up in immigration issues, sibling loyalty, and terrorism is imbued with "subtlety and warmth." The audiobook exposes some of the everyday concerns of Muslims living in the West.
Looking for some hot paranormal romance? Jeaniene Frost's INTO THE FIRE is the latest in her Night Prince series about Prince Vlad of the vampires and his cherished bride, Leila. Narrator Tavia Gilbert has voiced this fiery series from its beginning, capturing the full range of emotions: "love, hate, and all-out vengeance." If you must read your series in order, then start with Gilbert's performance of ONCE BURNED.
Listeners who stick with true stories can sidle up to the audiobook warmth via Caroline Fraser's PRAIRIE FIRES, a factual account of Laura Ingalls Wilder's childhood and transformation into world-famous children's author. Narrator Christina Moore highlights the drama and challenges of Wilder's frontier life and Ozark marriage, yet "remains neutral" when presenting the harsh realities of the actions and opinions of Wilder's family.
Twists and turns can really heat up a good mystery or thriller. THE ROOM OF WHITE FIRE by T. Jefferson Parker is a case in point. The AudioFile Earphones Award–winning (and best of the year!) performance by Will Damron highlights the slow burn of this thriller about a private investigator's search for a man who escaped a mental institution used by the CIA for dubious interrogation methods. The story itself is engrossing, but Damron's "delivery enhances every aspect" of this standalone audiobook. Check out our Behind the Mic post with Damron for a video on his narration for this thrilling audiobook.
If you're still searching for your perfect sizzler, not to worry. This year's fires aren't out yet—stay tuned to AudioFile for reviews of THE HIDDEN LIGHT OF NORTHERN FIRES by Daren Wang, read by Robin Miles, and AFTER THE FIRE by  Henning Mankell, read by Sean Barrett.