No one was more surprised than author and narrator Travis Baldree when his cozy fantasy novel LEGENDS & LATTES became a runaway hit—even before it was published. "I feel like I accidentally held my bucket under the right storm cloud," Baldree says. He wrote it during National Novel Writing Month—something he'd tried before, but this is the first book he'd finished that way. "I narrate lots of action-adventure stuff. It's always big stakes and the world's going to end. And I'm also usually reading stuff that's from the perspective of a guy. So I just wanted to write something that wasn't that at all."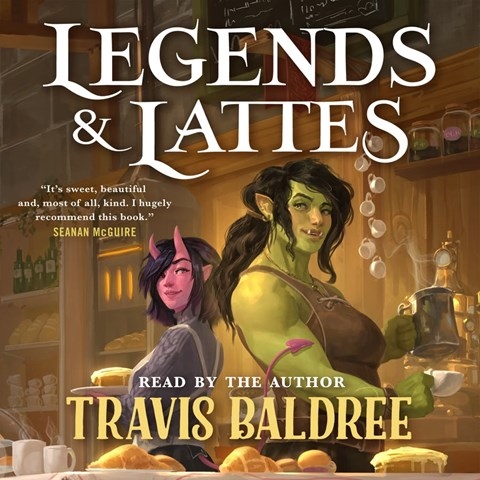 Then he decided to self-publish the book and audiobook, which he narrated himself. "Because I work with all these indie authors, I was like, you know what? I want to go through everything that they go through because I like to learn stuff and I'm just curious what their side of the equation is." Baldree got the book edited and commissioned a cover illustration. When he shared the cover art on Twitter, fantasy author Seanan McGuire retweeted it to her 74,000 followers. "Later on, she also read the book and said nice things about it. She added a whole lot of fairy dust to the proceedings." The book continued to go viral on TikTok and Instagram. "It's really rewarding because it's a book about people mostly being nice, so if people like it, that's what they liked. It's a really pleasant feedback loop."
LEGENDS & LATTES was such a success that agents came calling, and Baldree ended up with a book deal. "It was all very not planned and not expected, and I'm kind of humbled by the whole thing," Baldree says. Tor/Macmillan will re-launch the book in November, and Baldree, who's now working on a sequel, will embark on a book tour in the U.S. and the UK. Luckily, audiobook fans don't have to wait—Baldree's Earphones Award-winning performance is available now.
Baldree's day job as a narrator keeps him busy. "I think I do about 70 hours of audio a month," he says. He was a video game developer before he was a narrator. Then he started narrating audiobooks "on the side, for fun." More and more narrating work came his way. "At some point, a couple of years ago, I said, I actually like this better. So I retired from game development and switched to doing it full time and kind of haven't looked back." Now he narrates fantasy and GameLit titles, many for authors who are independently publishing their audiobooks. One of his favorites is Will Wight's Cradle series, which Baldree calls an indie phenomenon and "absolute fun."
When he's not narrating or writing, what does Baldree do with his time? "Weirdly, I still like to read for fun. I read a lot of novellas. I like short, concise stories that I can finish in between sessions or on a break day. Liking words and liking writing is probably a good prerequisite for being a narrator."
Jennifer Dowell is AudioFile's Managing Editor.