Part two of February fun! The Finalist Titles for the Erotica Audies are listed below. As with my post on the romance nominees, I tried to give you a quick heads up on what to expect from these stellar titles. These titles range from "hot" to "on fire" in terms of content, so plan your listening accordingly!
CLAIM & PROTECT: Men of Haven, Book 3
by Rhenna Morgan, narrated by John Lane, published by Harlequin Audio
Trevor's new employee, Natalie, has serious trouble coming from her wealthy ex-husband. But Natalie's husband has no idea what Trevor and his brotherhood are capable of. Narrator John Lane is versatile with accents and has a gravelly tone that makes the entire recording a pleasure. Hard to put down.
HIS ALONE: For Her, Book 2
by Alexa Riley, narrated by Summer Morton and Jay Crow, published by Harlequin Audio
Narrators Summer Morton and Jay Crow sell Alexa Riley's stalker romance with passionate focus. Paige's boss Ryan has always loved her, always wanted her, and now he's ready to make his move. Expect searing emotion and intensity from both narrators who take the obsession seriously!
MORE THAN WANT YOU: More Than Words, Book 1
by Shayla Black, narrated by Christian Fox, published by Tantor Audio
Narrator Christian Fox creates a modern-day rake whose casual approach to sex changes when he meets singer Keeley Kent. Maxon can be an annoying hero at first, but Fox embodies all of Maxon's vices and his hidden virtues in this Hawaii-set revenge story. Fox's voice is low and gruff, and he fully engages with the characters.
ONE NIGHT OF SIN: After Hours, Book 1
by Elle Kennedy, narrated by Joe Arden, published by Brilliance Publishing
AudioFile Earphones Award
Sex in the city . . . of Boston? Skyler meets Gage at his nightclub and their mutual attraction quickly catches fire. Narrator Joe Arden does various voices in a thick Boston accent that charms. Skyler's voicing is lighter and unaccented — a nice balance to keep characters distinct and memorable.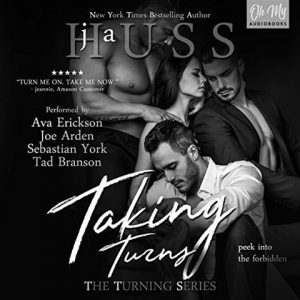 TAKING TURNS: The Turning Series, Book 1
by JA Huss, narrated by Ava Erickson, Sebastian York, Tad Branson, and Joe Arden, published by Oh My Audiobooks
Arguably the steamiest of the bunch, TAKING TURNS is a menage story with art gallery worker Chella and gentleman's club owners Smith, Bric, and Quin. The narrators take turns telling the story from each character's point of view. Ava Erickson keeps you guessing with how she rolls out Chella's secrets and motivations, making Chella mysterious and a little aloof. Sebastian York gets to play up the ambiguity with Bric's tricky, persuasive manner. Tad Branson narrates the friendly Quin, balancing the menage game with his own personal heartache. And Joe Arden narrates devious Smith, who keeps listeners on their toes with his maddening maneuvers.