THIS IS IT! (I'm humming Kenny Loggins — no judgment, please.) It's the time of the year we get to recognize a superlative group of Audies finalists. This week, we're presenting the Audies Romance nominees to you (we'll be doing Erotica titles next). In case you have a to-listen pile of epic proportions, I've tried to give a quick sketch for each title so that you can plan your listening adventures accordingly. Enjoy, and congratulations to every nominee.
Audie Award Romance Finalists
THE DUCHESS DEAL
by Tessa Dare, read by Mary Jane Wells
Harper Audio
Narrator Mary Jane Wells makes this rags-to-duchess story feel fresh and flirty. What to expect? Crisp, proper, and laugh-out-loud funny.
THE LADIES' ROOM
by Carolyn Brown, read by Donna Postel
Brilliance Audio
AudioFile Earphones Award
Donna Postel narrates this second chance romance full of Southern flair. THE LADIES' ROOM is clear, arch, and well paced.
COME SUNDOWN
by Nora Roberts, read by Elisabeth Rodgers
Brilliance Audio
AudioFile Earphones Awards
Elisabeth Rodgers brings listeners romantic suspense set in sweeping Montana with its unforgettable beauty. COME SUNDOWN is flowing with varied voices and an undertone of menace.
CAKE: A Love Story
by J. Bengtsson, read by Andi Arndt, Joe Arden
J. Bengtsson
The wedding date from hell or heaven on earth? Narrators Andi Arndt and Joe Arden portray a chatty college student's escapades with a taciturn rock star. What'll be served? Strong female characterizations and breathless romance from Arndt with a side of well-phrased dialogue from Joe Arden.
ANY DAY NOW
by Robyn Carr, read by Therese Plummer
Recorded Books
Despite having narrated countless Robyn Carr romances, Therese Plummer brings new voices and new reasons to fall in love with Carr's characters. How to describe her? Emotion-driven and inventive. ANY DAY NOW is Sierra's story, the second book in Carr's Sullivan's Crossing series.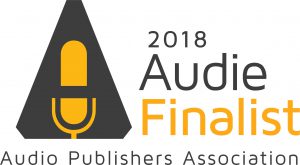 The winners won't be announced until May 31st — until then, check out all the finalists and find some new listening to love!