Hot off bestseller lists and fan raves, Ilona Andrews's Hidden Legacy series is a *must listen* experience, and WILDFIRE is the latest addition to this fiery series. AudioFile goes Behind the Mic with narrator Renée Raudman as she shares her thoughts on creating this magical audiobook experience.
"They're known for their amazing characters and the rich world building that they create… their worlds are so real, and you feel like you are in them in that book, you just live through it."—Narrator Renée Raudman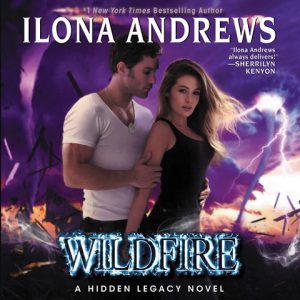 WILDFIRE: Hidden Legacy Book 3
Ilona Andrews, read by Renée Raudman
Harper Audio/Blackstone Audio
Intrigued by these urban fantasy romances? Start with BURN FOR ME, then jump right into WHITE HOT. In WILDFIRE, the newest in the series, Renée voices the magical private investigator and human polygraph Nevada Baylor, humanizes the villains, and brings to life Nevada's joyfully quirky relationships. I have to admit, my favorite is WHITE HOT for the giddy pace and courtship elements, but feel free to make your own recommendations in the comments!
Find more audiobooks narrated by Renée on our website!