Admit it—we're fascinated with royalty. Just look at the commemorative plates/snowglobes/spoons your relatives scooped up to celebrate the marriage of William and Kate. In the British peerage, dukes are in the direct line of royal succession, and many ducal titles were originally created for the ruler's siblings. In the Regency period (1811–1820), for example, a popular setting for historical romances, King George III's progeny enjoyed the dukedoms of Cornwall, Rothesay, York, Albany, Clarence, Kent, Strathearn, Cumberland, Teviotdale, Sussex, and Cambridge, to name a few. For romance readers, dukes are the best of both worlds. They are figures of immense wealth and power (and, of course, they are handsome to boot), with the freedom to pursue outside interests—and maybe, in the world of romantic fantasy—to marry a commoner! Far from common, these six audiobooks about dukes will be a royal treat for listeners.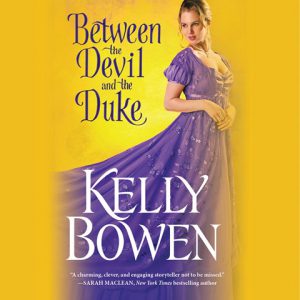 BETWEEN THE DEVIL AND THE DUKE: Season for Scandal, Book 3
by Kelly Bowen, read by Ashford McNab
Hachette Audio
Ashford McNab creates a believable cast of characters spanning from the highest to the lowest members of society, with dangerous dealings with the "devil" in a gambling parlor. A recommended title for those who prefer their romances unabashedly feminist and a little mysterious. You can start the series with DUKE OF MY HEART or dive right into BETWEEN THE DEVIL AND THE DUKE!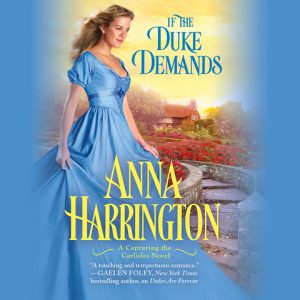 IF THE DUKE DEMANDS: A Capturing the Carlisles Novel
by Anna Harrington, read by Justine Eyre
Hachette Audio
AudioFile Earphones Award
Narrator Justine Eyre's voice is textured and full of emotion as she narrates the first in this Regenecy romance trilogy. Eyre gives each character a unique voice, from the determined-sounding Miranda Hodgkins to the deeper, more forceful tone of Sebastian Carlisle, the Duke of Trent.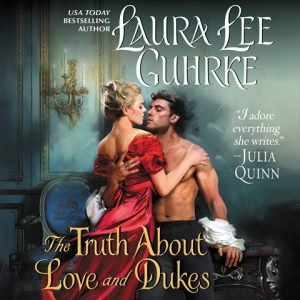 THE TRUTH ABOUT LOVE AND DUKES: Dear Lady Truelove
by Laura Lee Guhrke, read by Carolyn Morris
Harper Audio
Narrator Carolyn Morris draws listeners into the historical romance of Henry, Duke of Torquil, and Irene Deverill, a publisher who has printed provocative columns. Morris helps listeners envision the world of the aristocracy that the characters inhabit and leaves them rooting for Henry and Irene to overcome their differences to find love together.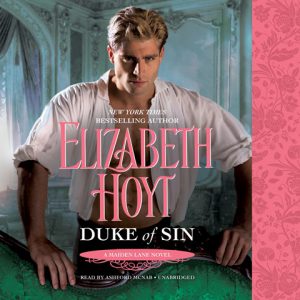 DUKE OF SIN: Maiden Lane, Book 9
by Elizabeth Hoyt, read by Ashford McNab
Hachette Audio
The Duke of Montgomery, Valentine Napier, is uncertain in his love of Bridget Crumb, his housekeeper. Narrator Ashford McNab convinces listeners that the despicable duke has hidden depths and motivations to redeem him as he and Bridget join forces to deal with secrets in both of their lives.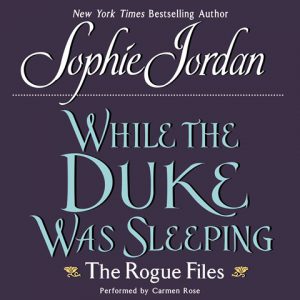 WHILE THE DUKE WAS SLEEPING: The Rogue Files, Book 1
by Sophie Jordan, read by Carmen Rose
Harper Audio
AudioFile Earphones Award
Carmen Rose narrates heroine Poppy Fairchurch's vulnerability and hero Struan Mackenzie's no-nonsense temperament and virility in this historical romance. In Rose's capable voice, the story, set in London and at the duke's country home at Christmastime, is a satisfying romp.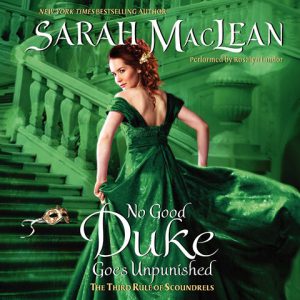 NO GOOD DUKE GOES UNPUNISHED: The Third Rule of Scoundrels
by Sarah MacLean, read by Rosalyn Landor
Harper Audio
Rosalyn Landor's lovely British accent and engaging delivery provide the perfect pairing for this appealing historical romance. Handsome William Harrow is dubbed the "Killer Duke" after the apparent murder of his soon-to-be stepmother, young heiress Mara Lowe. If you love NO GOOD DUKE GOES UNPUNISHED, listen to the next in the series, NEVER JUDGE A LADY BY HER COVER!
Do you have a favorite duke whose tales you love? What is it about dukes that keeps you coming back for more stories? Share your favorites with us in the comments!