Equal time. In my recent posts, I've focused on cozy and historical romances. This time, let's hit shuffle on the player and turn to edgy and paranormal romance. For any Twilight fans, it's my opinion that the successful edgy romance is an experience similar to Bella's jump off the cliff. Nothing's held back. It's life or death, do or die, all or nothing, Montagues or Capulets.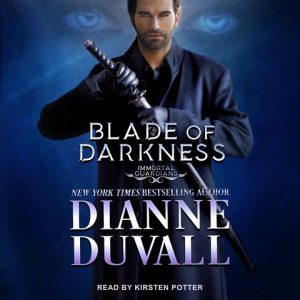 These narrators are intense; they're living the story, making it impossible to stop listening for fear of breaking the emotional experience that feels all-consuming. This type of romance can feel almost like a madness—think of Charlotte or Emily Brontë's narratives. It's key that the narrator places listeners at the center of the whirlwind rather than leaving us outside it, staring judgmentally at the couple, wondering, "What were you thinking?" In a romance in which it's the couple against seemingly insurmountable obstacles, the listener needs to feel at every moment that together is better than apart. Take a deep breath and dive into the addictive experience of being someone's entire world.
BLADE OF DARKNESS: Immortal Guardians, Book 7
by Dianne Duvall, read by Kirsten Potter
Tantor Media
AudioFile Earphones Award
DRAGONSWORN: Dark-Hunter, Book 28
by Sherrilyn Kenyon, read by Holter Graham
Brilliance Audio
AudioFile Earphones Award
RACE AGAINST TIME
by Sharon Sala, read by Lexi Richmond
Harlequin Audio
REAL DIRTY: Real Dirty Duet, Book 1
by Meghan March, read by Elena Wolfe, Sebastian York
Blackstone Audio
AudioFile Earphones Award
HOLD TIGHT: For You, Book 2
by Alexa Riley, read by Savannah Peachwood, Tristan James
Harlequin Audio
CAN'T LET GO: Original Heartbreakers
by Gena Showalter, read by Savannah Richards
Harlequin Audio
This post has been adapted from the original Tease column published in the February/March 2018 issue of AudioFile Magazine.