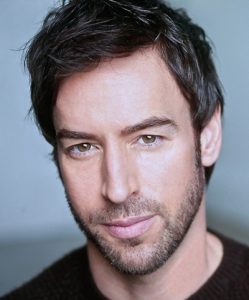 Congratulations to Steve West, the winner of RT Book Reviews Romance Novel Narrator award given by AudioFile! Steve won the award for his narration of A BUCCANEER AT HEART. With his "rich rolling style", he tells the tale of nineteenth-century sea captain Robert Frobisher and his growing intimacy with—and subsequent fear for—the captured Aileen Hopkins.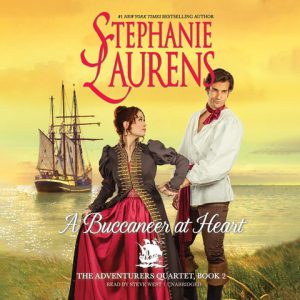 A BUCCANEER AT HEART: Adventurers Quartet, Book 2
by Stephanie Laurens, read by Steve West
Blackstone Audio
AudioFile Earphones Award
Steve has narrated more than a hundred audiobooks, and gives us some intriguing insights into his recording of The Adventurers Quartet in our recent interview with him:
It was boiling hot weather. Even with air-conditioning on, my recording booth becomes a mini-greenhouse. The only thing for it in these circumstances is to record in your underwear. I'm not kidding, and I can bet you a lot of narrators do this in their home studios! If they say 'no,' they're telling fibs.—Narrator Steve West
Steve also described his love for the feisty female leads in The Adventurers Quartet series in a Behind the Mic video about LORD OF THE PRIVATEERS earlier this year!
Keep your eye—or ear—out for Steve and his many new audiobooks. Explore his whole audiography of audiobook titles.