Robert Petkoff has narrated Kresley Cole's Immortals After Dark series for all 17 audiobooks, much to the delight of AudioFile's reviewers! In the newest installment, WICKED ABYSS, Robert is able to bring alive the complicated love story of Sian, a demon lord of Hell, and his mate, the fey Princess Lila — not to mention a dragon with a brogue and a slightly manic Valkyrie.
You can jump into the series with WICKED ABYSS or go back to earlier titles in the series to hear Robert tell the story of a bloodthirsty vampire and an Appalachian young woman possessed by an evil goddess in LOTHAIRE, or listen to the tale of Lucia the Huntress and Scottish werewolf Garreth MacRieve in PLEASURE OF A DARK PRINCE.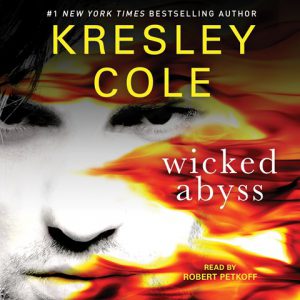 WICKED ABYSS: Immortals After Dark, Book 17
by Kresley Cole, read by Robert Petkoff
Simon & Schuster Audio
Earphones Award Winner
Look for more new Romance reviews on our website!