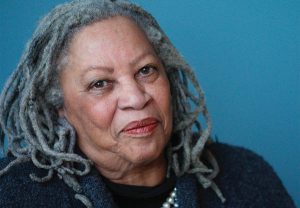 Earlier this month, author Toni Morrison turned 88. On her birthday, a new collection of her essays and speeches, THE SOURCE OF SELF-REGARD, was published. Twenty years ago I was privileged to interview Ms. Morrison for an AudioFile profile. I was terrified—not having a lot of interview experience and talking with such a literary icon had me worried. Of course, Ms. Morrison had done hundreds of interviews and taught at Princeton for many years, so she was gracious and put me at ease. "Toni Morrison sets the gold standard for a writer narrating her own work," said our reviewer Beth Gutcheon in her review of the 2012 novel HOME. She does indeed, and listeners are blessed be able to listen to the author read SULA, BELOVED, PARADISE, and others. Even her acceptance speech of the 1996 National Book Award for THE DANCING MIND is a treat.
In one essay in the new collection, Ms. Morrison writes, "A writer's life and work are not a gift to mankind; they are a necessity." Bahni Turpin is the narrator of Toni Morrison's new collection—she's a brilliant choice to take up those reins. Bahni also reviewed ON THE COME UP, Angie Thomas's new YA novel. She won the 2018 Audie Award for Best Female Narrator for Thomas's previous novel, THE HATE U GIVE, which was a phenomenon in its own right. And a few years ago, Bahni narrated Zora Neale Hurston's autobiography DUST TRACKS ON A ROAD. Posthumous attention to Hurston's works was originally spurred by authors such as Toni Morrison and Alice Walker in the 1970s, so that THEIR EYES WERE WATCHING GOD would be added to high school curricula. Yet just this year, Hurston's BARRACOON was released—with a brilliant performance by Robin Miles.
We have two podcast features that amplify some of these audiobooks: ON THE COME UP is featured in a Behind the Mic episode that debuted earlier this week, and we took the opportunity to rebroadcast our bonus interview with Robin Miles on our new podcast platform.
To welcome Women's History Month, I want to also mention Maya Angelou. Her audiobooks never fail to inspire me, and we are blessed to have a legacy of great recordings of Dr. Angelou, including AND STILL I RISE and LETTER TO MY DAUGHTER. Also enjoy this website, Caged Bird Legacy.
Thank you, Toni Morrison—your work has inspired generations of readers and listeners to experience the work of Black women authors.
Photo of Toni Morrison by Michael Lionstar, Robin Miles by Jordan Matter