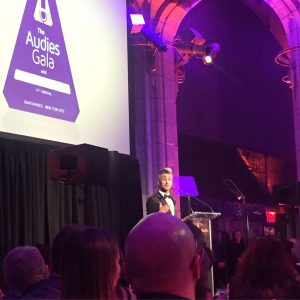 It's time!
Whether you watched the 2019 Audie Awards in person on March 4 in New York City at Guastavino's under the stunning columns and vaulted ceilings of the Queensboro Bridge arcade . . . or on your couch in your flannel PJs via Twitter, I'm sure you enjoyed that wonderful sense of anticipation that comes as the Audio Publishers Association gets together to celebrate the year's best audiobooks. The Audies have been given annually since 1996, and the Romance award started in 2005. This year, the APA streamlined both the Audies categories and the timeline, with the result that the Audie Awards Gala arrived in March, and titles from both the Erotica and Romance genres combined under the "Romance" Audie category.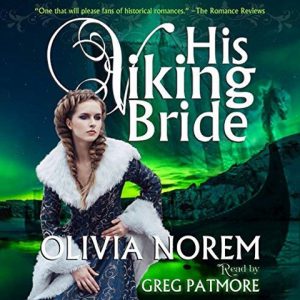 This year's finalists represented an amazing variety of audiobooks. I dare anyone to have predicted which title from this stellar group would win . . . and I am so pleased to report that HIS VIKING BRIDE, written by Olivia Norem, read by Greg Patmore, and produced by Olivia Norem, is the 2019 Romance Audies winner.
So much to say about this distinguished audiobook. The early medieval time period and tons of Old Norse names, places, and terminology might be a barrier to listener enjoyment if not for Patmore's skillful, flowing reading. There's never a hitch as he introduces listeners to Aestrid Karisson, kidnapped by Picts and rescued by the hateful Viking chief Veleif Kollsvein. Patmore makes listeners feel the biting wind, the rough seas, and the majestic beauty of Norem's icy kingdoms. He manages to balance Veleif's forceful authority and Aestrid's indignant rejoinders so that the romance feels both historically accurate and satisfying to modern listeners. Patmore's deep timbre and commanding presence seem perfectly aligned to a time period notable for sea travel, conquest, and alliances.
You can also enjoy some past Audie Award winners:
2018 Romance:
THE DUCHESS DEAL by Tessa Dare, narrated by Mary Jane Wells
2018 Erotica:
CLAIM & PROTECT by Rhenna Morgan, narrated by John Lane
2017 Romance:
DIRTY by Kylie Scott, narrated by Andi Arndt
2017 Erotica:
MARRIAGE GAMES by CD Reiss, narrated by Sebastian York and Elena Wolfe
2016 Romance:
THE HIGHWAYMAN by Kerrigan Byrne, narrated by Derek Perkins
2016 Erotica:
CURING DOCTOR VINCENT by Renea Mason, narrated by Noah Michael Levine and Erin deWard
A full list of the 2019 Audie Award winners can be found at theaudies.com. Congratulations to the hard-working members of the APA and the many Audies judges for their diligent work to spotlight audio excellence in this and every Audies category.