I find myself frequently trying to explain what "The Audies" are to  non-audiophiles. I say they are the Oscars for audiobooks. What I should say is that the Audies are even better than the Oscars. After all, for this year's ceremonies, we had a fine host in Tan France ("Queer Eye" fashion expert). The Oscars could learn a few things from the Audie ceremonies—such as, the only acceptance speeches are by the winners of the Best Female Narrator, Best Male Narrator, and Audiobook of the Year categories. All other award winners are announced and stand at their seats and get cheered. So, the ceremonies begin and end on time! Oh, and the best part this year was that while the awards were being announced, the audience (including me) got to munch on delicious mini pastries and assorted desserts.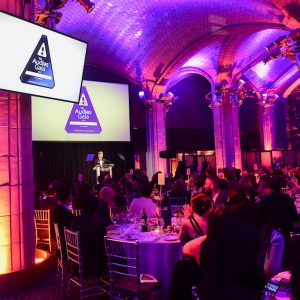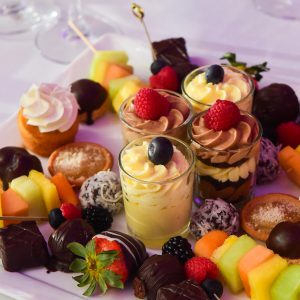 I came prepared this year to find and photograph each of the narrators for the finalists in the Mystery category:
LETHAL WHITE
by Robert Galbraith, narrated by Robert Glenister
THE MYSTERY OF THREE QUARTERS
by Sophie Hannah, narrated by Julian Rhind-Tutt
THE PUNISHMENT SHE DESERVES
by Elizabeth George, narrated by Simon Vance
THE TUSCAN CHILD
by Rhys Bowen, narrated by Jonathan Keeble and Katy Sobey
WILD FIRE
by Ann Cleeves, narrated by Kenny Blyth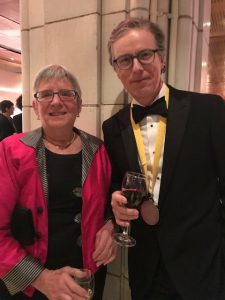 The only finalist I actually got to meet and photograph was Simon Vance, who won for THE PUNISHMENT SHE DESERVES. I caught up with Simon and AudioFile's Robin Whitten, who were enjoying themselves at the cocktail reception before the awards. (I also had the pleasure of meeting my AudioFile editors Emily Connelly and Jennifer Dowell.)
The Audies gala was a thrill for a fan like myself. I found myself awestruck by seeing the narrators I listen to often. The Best Male Narrator winner this year was Edoardo Ballerini, who won for Dean Koontz's WATCHERS. I have been a fan of Ballerini's work, and I especially appreciated his voicing of Jeffery Deaver's THE BURIAL HOUR, where he shows off his talents for various Italian accents.
And it was a joy to see talented Audies finalist and presenter January LaVoy in person. I recently listened to her masterful narration of Joseph Finder's JUDGMENT.
It was altogether a wonderful evening for an audiophile like me.
Photo of Tan France by Astrid Stawiarz/Getty Images for the Audio Publisher Association. Photo of the audience and desserts by Max Flatow photography.