The 27th annual Audie Award winners were announced at the virtual Audies gala on Friday evening, March 4. The Audies are the annual awards given by the Audio Publishers Association to recognize the best audiobooks. It's hard for me to believe that the last major live event I attended was the Audie Awards Gala held in New York City on March 2, 2020. The benefit of holding the gala virtually is that everyone can join in—and can attend in their sweats.
This year's Mystery finalists showed off the diverse sub-genres which make up this category.
Just as in the award ceremony, allow me to introduce the finalists and then (drum roll) announce the winner: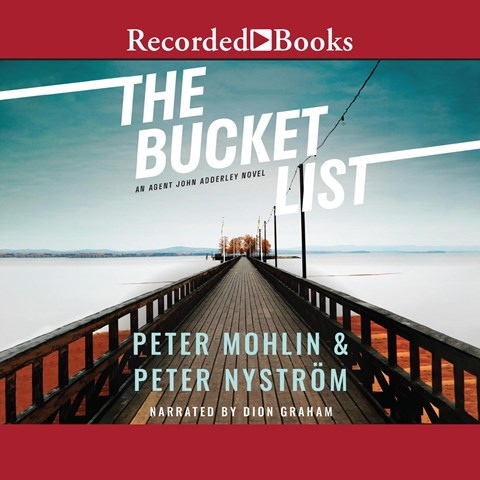 First, we have a Nordic Noir which opens in the very American city of Baltimore. THE BUCKET LIST by Peter Mohlin and Peter Nystrom is read by Golden Voice Dion Graham, who has previously won Audie Awards in many categories, including Mystery, Children, History, Fiction, and Young Adult. This is the debut crime novel of the two Peters, who were childhood friends growing up in a small town in Sweden. The authors bring their professional talents in scriptwriting and journalism to the details and drama that keep listeners engaged in this complex tale. The lead, John Adderly is a half-American Black, half-Swedish FBI Agent who returns to Sweden to investigate a cold murder case involving his half-brother. Graham has a versatile, velvety voice that he leverages in performing the interesting mix of nationalities that drive this audiobook.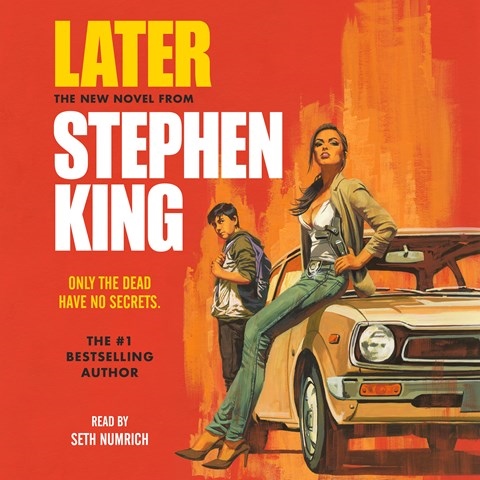 Next, we have an audiobook in which the lead character literally reminds us at key points that you are listening to a horror story. LATER by Stephen King and read by Seth Numrich earned an Earphones Award. Listeners meet Jamie Conklin as a boy who discovers he can see and speak with dead people who are compelled to tell him the truth. (Think the movie The Sixth Sense.) Numrich's earnest voice makes Jamie an appealing and sympathetic character. Adults in his life use Jamie's gifts for good and for bad intentions. The story moves back and forth from crime to psychological thriller to horror. Numrich's voice conveys warmth, fear, and courage as Jamie grows up and takes charge of his gift. Overall, this is an engrossing listening experience.
Then we reach back in time to a classic, Agatha Christie's THE MAN IN THE BROWN SUIT, read by Gabrielle de Cuir and John Lee, which also earned an Earphones Award. What a tribute to Agatha Christie's genius that her books keep being published and made into movies for new audiences. Interestingly, 2022 makes the 100th anniversary of Agatha Christie's 10-month voyage around the world. It is those travels that contributed to her descriptions of Africa detailed in this story. While uncomfortably illuminating a time when colonialism, racism, and sexism were a way of life, the plot still holds up to modern-day scrutiny and skepticism. Gabrielle de Cuir voices the brave, smart Anne Beddingfield, who relentlessly pursues her dream of being an adventurer. John Lee masterfully performs the imperious, arrogant Eustace Pedlar, MP. The audiobook is fun and engaging as it draws the listener into the intriguing world of Britain and Africa.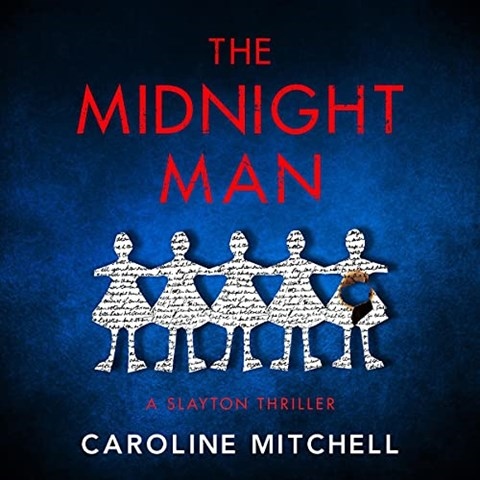 THE MIDNIGHT MAN by Caroline Mitchell, read by Emma Gregory and Elliot Fitzpatrick, provides listeners with a creepy horror tale combined with a psychological thriller. This is the first audiobook in the Slayton Thriller series. That the mystery of a missing teen is being investigated by a detective may account for this being put in the Mystery category rather than Horror. The categories do blend. This audiobook leverages the many voices of two talented narrators who deliver on this tense, suspenseful story that comes to life with two time frames and many characters.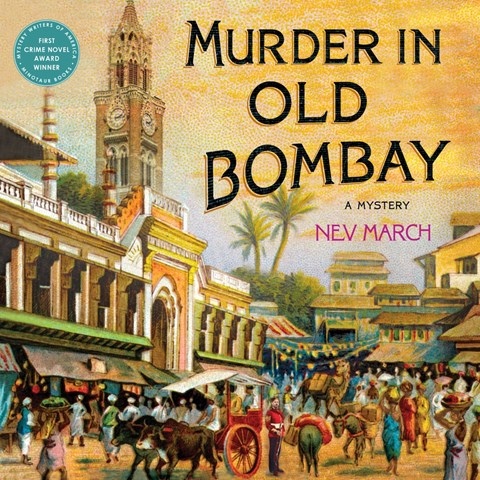 Another historical mystery, this one set in India in 1892, is MURDER IN OLD BOMBAY by Nev March and narrated by Vikas Adam, who is a multiple Audie winner. This is also an Earphones Award winner. As with the other series audiobooks finalists in this category, this is Book 1 in the series. With his versatility in accents, Adam masterfully performs the many characters who come from different parts of India and the British Empire, men and women. Listeners will be drawn into the story of Captain James Agnihotri taking on the job of a journalist investigating the mysterious death of two young women. Adam is particularly convincing in conveying the emotions of the characters. The next book in the series, PERIL AT THE EXPOSITION, narrated again by Vikas Adam and this time joined by Safiyya Ingar, will be released in July 2022.
AND THE WINNER IS: LATER, by Stephen King, read by Seth Numrich
Congratulations to all of the 2022 Audie Award finalists and winners, and to all of us listeners who get to experience this bounty of excellent audiobooks.