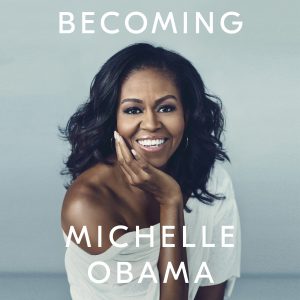 In my next life, I will be mathematically gifted, a natural athlete, pale with copper hair or mocha with corkscrew curls, able to carry a tune and tell a joke without ruining the punchline, and unafraid of roller-coasters. Until then, I'm spending time with folks who inspire me in this life, finding them in AudioFile's picks for the five best memoirs of 2018. (Check out all of our 2018 Best Audiobooks in our media-rich E-Zine.)
Let's begin with Michelle Obama, whose new memoir, BECOMING, lifts the spirits as it heartens. As I listened to her Earphones Award-winning performance, I admired her more than ever and felt I'd gained a new best friend. This is an audiobook that I'll keep coming back to in order to savor Obama's embracing voice and thoughtful, fierce, funny reminiscences about real life, both grand and humble.
Julia Whelan performs Tara Westover's memoir, EDUCATED, as if her life depended on it, which is just right for the story of how Westover survived an isolated and fundamentalist childhood to attend college and graduate school. It's a powerful tale that reads like an occasionally terrifying adventure story.  But it's all true. Rarely have I felt so grateful for my own opportunities.
Like many, I'll never forget thrill of seeing Nelson Mandela's televised release  from a South African prison. His grandson Ndaba Mandela's GOING TO THE MOUNTAIN let me feel as if I'd met the great man. "Going to the mountain" is the English translation of the Xhosa coming-of-age rite, which Ndaba undertook under his famous grandfather's watchful eye. Introduced by Ndaba Mandela and beautifully narrated by Michael Boatman, this is a story at once unique and universal.
I'd follow the Cecile Richards I met in MAKE TROUBLE anywhere, because listening to her made me feel invincible. The witty, rabble-rousing former president of Planned Parenthood offers an Earphones Award reading of her energizing life story from its start in Waco, Texas, (the child of political activists–her father, a lawyer, often represented unions, and her mother famously became a left-leaning governor of Texas) to defending women's reproductive rights in front of the senate. Whatever she does next, I'll be listening.
Seymour M. Hersh, longtime contributor to The New Yorker, has reported most of the major stories of the past fifty years and met many of the world's key players, which makes his memoir, REPORTER, a fascinating listen. Add the ace performance by Arthur Morey, and you've got a pretty perfect reflection on recent history and what it takes to ferret out the truth of a story. A free press is the cornerstone of our democracy. These days, being a reporter takes more courage and determination than ever. Thank you, Mr. Hersh.