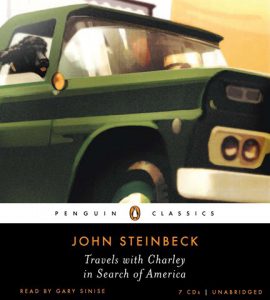 Summer is a time to hit the road, and a good audiobook can go a long way towards making car trips not just bearable, but enjoyable. Some are actually stories about road trips.
Join Robin Whitten and Jo Reed as they discuss their picks for summer road trip listening. And before you declare summer to be over, remember that you may well have a road trip ahead of you this Labor Day weekend!
Listening to audiobooks about road trips while making your own way on the road can enhance your travel experience and make the miles speed by, whether you're making a trek across the country or making your way into the woods for your last summer camping trip with the family.
"Whether you're heading out in a car, in the train, or on the bus, nothing beats a good audiobook."—Jo Reed
Road trip-ready audiobooks recommended by Robin and Jo
HORATIO'S DRIVE
by Ken Burns, Dayton Duncan, read by Ken Burns, Dayton Duncan, Tom Hanks et al.
Random House Audio
AudioFile Earphones Award
TRAVELS WITH CHARLEY
by John Steinbeck, read by Gary Sinise
Penguin Audio
THE WATSONS GO TO BIRMINGHAM
by Christopher Paul Curtis, read by Levar Burton
Random House Audio
NPR ROAD TRIPS: FAMILY VACATIONS
by National Public Radio [Eds.], read by Noah Adams et al.
HighBridge Audio
EAT PRAY LOVE
written and narrated by Elizabeth Gilbert
Penguin Audio/Books On Tape
AMERICAN GODS
by Neil Gaiman, read by George Guidall
Harper Audio/Recorded Books
AudioFile Earphones Award
AMERICAN GODS: 10th Anniversary Edition
by Neil Gaiman, read by Dennis Boutsikaris and a Full Cast
Harper Audio
AudioFile Earphones Award
What are your favorite on-the-road listens? Do you seek out stories about traveling while on your own journeys across the country or around the world? Let us know in the comments!