Listen to a conversation between Joe Hill and Dennis Boutsikaris on recording Joe Hill's latest audiobook, STRANGE WEATHER. Boutsikaris reads Hill's Aloft in this new collection of four novellas. Authors and narrators rarely get the chance to sit down and talk about their work. Our conversation gives audiobook fans insights into the creative process of both author and narrator.
"You can tell when something hasn't been read aloud, and that is a great test of a manuscript—everything should be read aloud, everything should be tested by hearing it."—Author Joe Hill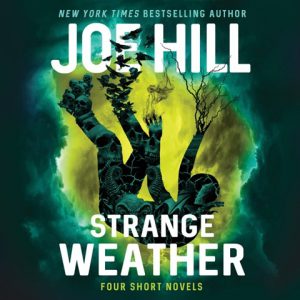 Getting the author and narrator together allows for some fascinating insights into the making of audiobooks. Hill talks about the impact of listening to his stories read aloud by good narrators, and the way it's influenced his writing — and in turn, Boutsikaris discusses the impact that has on making his narration sound like a natural extension of the story. Hill also shares comments about his reading life, and how he was influenced growing up with his literary parents, Stephen King and Tabitha King.
Listen in to hear more about the making of this chilling collection that is also one of AudioFile Magazine's Best Audiobooks of 2017 in the Sci-Fi, Fantasy, and Horror category. STRANGE WEATHER also features narrators Wil Wheaton, Kate Mulgrew, and Stephen Lang.