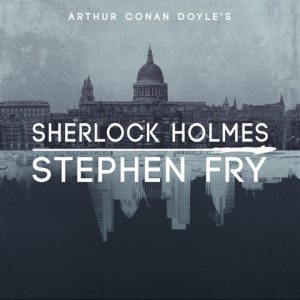 AudioFile contributing editor and reviewer Aurelia Scott has been a lover of Sherlock Holmes since she was a little kid poring over the annotated collection, as regular blog readers are well aware! I was excited to learn of actor Stephen Fry's new narration and commentary on the complete works of SHERLOCK HOLMES and decided to sit down to chat with Aurelia about our mutual love of the detective and all the many interpretations we have listened to over the years.
Stephen Fry's narration is special, as it not only includes his complex rendition of Sherlock and the engaging Watson, but also his own introductions that share with listeners his reflections on the novels and short stories. Listen in as Aurelia and I discuss our love of Sherlock, our appreciation for this masterful collection, and why Sherlock is still so relevant today.
"He's unusually real and deep, which is one reason why I think he is still present for us. He feels like a real person, just one step beyond us."—Aurelia Scott
For more excellent audiobooks read by Stephen Fry, jump over to his audiography and give his interpretations of other classics a try! We recommend A BEAR CALLED PADDINGTON for family listening and his solo voice narration of HITCHHIKER'S GUIDE TO THE GALAXY if you're feeling like taking your listening somewhere a bit more out of this world.