Once Genie Lo's only concerns were college applications—that is, until the ancient Chinese Monkey King got involved. AudioFile was delighted to feature THE EPIC CRUSH OF GENIE LO as part of our free summer audiobook program, SYNC Audiobooks for Teens. When we reached out to narrator Nancy Wu about filming a video about this action-packed YA fantasy, she invited author F.C. Yee to join her to share more about the audiobook. Watch this video from the two creative minds behind this epic listen.
"Genie Lo is a regular teenage girl, and then someone comes into her life and changes her destiny."—Narrator Nancy Wu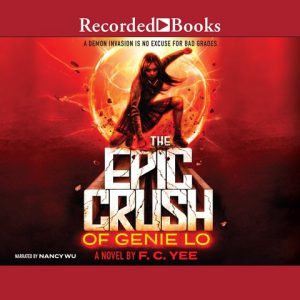 THE EPIC CRUSH OF GENIE LO
by F.C. Yee, read by Nancy Wu
Recorded Books
Imagine mythical Chinese characters as comic superheroes and villains, and you'll have the vibe of this entertaining adventure. Narrator Nancy Wu uses ample snark and deadpan humor as Genie harnesses her newfound superpowers to defeat an army of Chinese demons—all while continuing her quest to get accepted at an Ivy League school.
Find more audiobooks from Nancy Wu in her audiography!