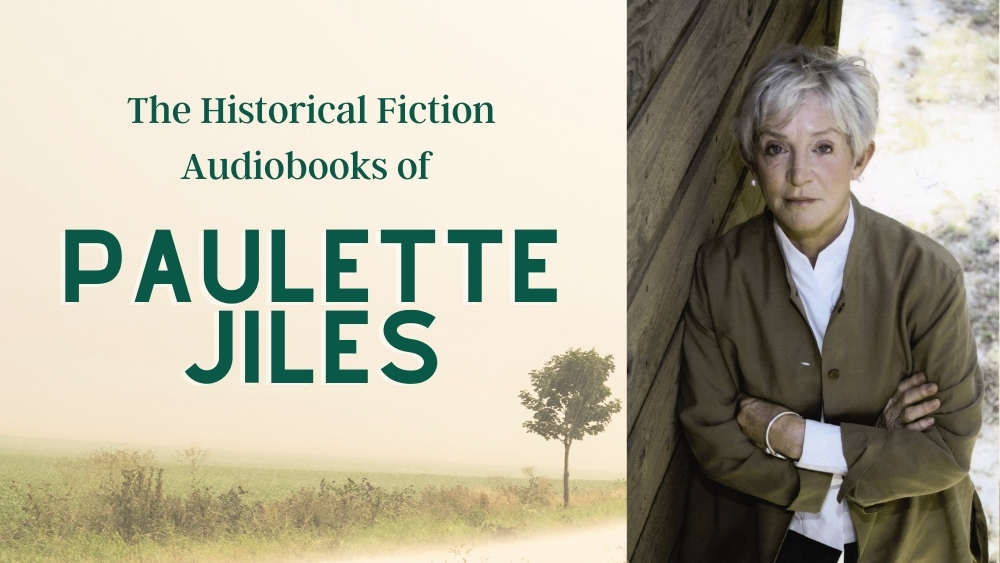 Poet and author Paulette Jiles's celebrated debut novel, ENEMY WOMEN, newly released in audio, is a gripping and unexpectedly relevant exploration of the ravages of partisanship and conflict. It is set in 1864, when the southern Missouri Ozarks were overrun with Union and Confederate militias who fought guerilla battles and wreaked havoc on civilians. Our protagonist is eighteen-year-old Adair Colley, whose avowedly neutral family is destroyed when a Union militia arrests her father, disperses her siblings, and sets fire to their mountain home. Adair is shipped to a St. Louis women's prison. That is just the beginning of her odyssey is this immersive story, which is rich in unforgettable characters and fascinating, often wrenching, historical anecdote.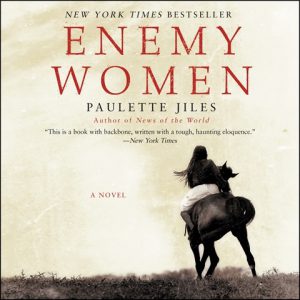 For this production, Los Angeles-based narrator Reba Buhr sounds youthful, strong, sweet, and fierce, with a hint of mountain banjo-twang. It's perfect for the indomitable Adair, who combines a toughness born of desperation with a lyricism reminiscent of Scheherazade. Other characters receive equal attention. We hear the weary gentlemanliness of the Union soldier who falls in love with her; the dangerous solicitude of a mother-daughter team of probable murderers; the nasal growl of a female tavern-keeper. These, and more, sound as if they are daguerreotypes come to life. Buhr reads the quotations from historical letters and newspapers that preface each chapter in a quick, clear voice that encourages our attention. Thus we meet a soldier who wrote in October 1864, "Dear Wife and Children, I take my pen in trembling hand to inform you that I have to be shot between two and four o'clock this evening. I have but few hours to remain in this unfriendly world. There are six of us sentenced to die in retaliation of six Union soldiers who were shot by Reeve's men."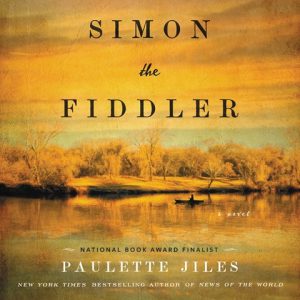 Jiles was raised in Missouri, spent formative years in Toronto and northern Ontario, and now lives in Texas. She was spurred to write ENEMY WOMEN while exploring her family's history in southeastern Missouri. Traversing the state's Ozark Mountains on horseback during her research, she came across Civil War graveyards lost in forest undergrowth. None of the graves had regulation headstones. In an essay about the book, she commented, "It was the first time it had occurred to me that there had been battles in my own home area, that men had fought here and killed one another and the women had come to bury them under whatever lay at hand."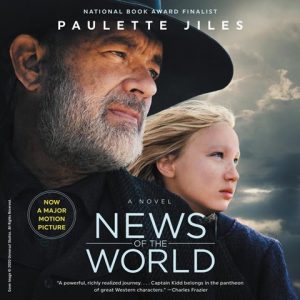 Jiles has written five novels since ENEMY WOMEN, several volumes of poetry, a memoir, and works of nonfiction. Her newest novel, SIMON THE FIDDLER, described as historical fiction of the highest order, received an Earphones Award performance by Grover Gardner. Set in post-Civil War Texas, its rough-cut young hero, Simon, strives against liars, grifters, and bullies to win freedom for an indentured immigrant girl.
Gardner also delivered an excellent performance of NEWS OF THE WORLD, which has been made into a film starring Tom Hanks, scheduled for release in December. That still gives you time to savor Gardner's narration of the memorable story of Captain Jefferson Kidd of Texas, who, in 1870, reads the news aloud for ten cents a listener and takes an unusual trip with a white orphan girl "rescued" from her Kiowa captors.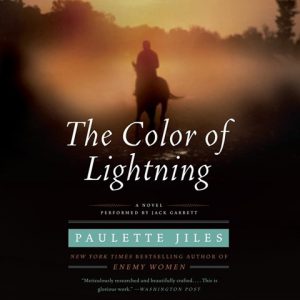 Jack Garrett won an Earphones Award for his performance of THE COLOR OF LIGHTNING, which opens with a Kiowa raid on formerly enslaved Black settlers in northern Texas in the 1860s. Based on oral histories, the novel explores an under-examined part of America's complex social fabric.
In a departure from her historical novels, LIGHTHOUSE ISLAND is set in a future time when city populations have exploded, nature is scarce, and water is rationed. Kevin T. Collins delivers an assured narration of the tale about four-year-old Nadia, who longs to find plants in a place called Lighthouse Island, and the mapmaker with whom she takes a dangerous and sometimes comic journey. Jiles is currently working on a sequel.
Paulette Jiles photo by Jill Gann.