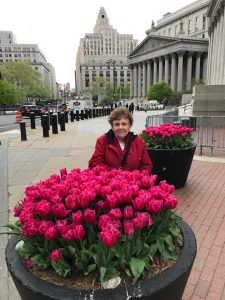 Springtime in Manhattan—yes, this is a city of steel, glass, cement, and towering testaments to man's need for architectural dominance. But in between those structures there is green sprouting, forsythia blooming, daffodils popping up, beds of tulips waving in the breeze. Spring has come to the city, and it is glorious!
Perhaps it's this sense of intense pace, of the energy, of cycles of death and renewal, that mystery writers find so inspiring. Recently, I listened to BLOOD OATH by Linda Fairstein, narrated by Golden Voice Barbara Rosenblat, who has become the voice of Alex Cooper and her posse. In each audiobook in the series, Fairstein shares with listeners the rich background on a different landmark or historic area of New York City. Even for a New Yorker like myself, I pick up facts about the architecture and history of this city. In this, the 20th audiobook in the series, a murder takes place under what is referred to as the "Bridge of Sighs" (after the original in Venice) that connects the court house in lower Manhattan to "the Tombs" (the jail). Of course, the real NYC bridge has none of the architectural interest of its Venetian namesake.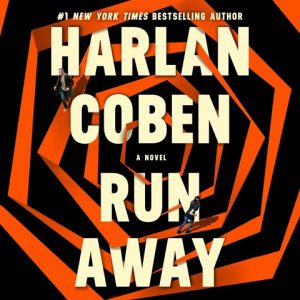 Another view of Manhattan is delivered by RUN AWAY, Harlan Coban's recent work, narrated by Steven Weber. Listeners might know Steven Weber from his TV acting career, but he is also a multiple Earphones Award winner. He brings his considerable acting talents to this standalone thriller that starts in the bucolic Strawberry Fields of Central Park and takes us through New York City's dark alleys with a story of a father tracking down his drug-addicted runaway daughter.
Taking us back downtown to Chinatown is S.J. Rozan's PI Lydia Chin and Bill Smith series. GHOST HERO is narrated by Emily Woo Zeller. In this series, Rozan provides us with not only a physical tour of the back streets of Chinatown, but also a view into the history of the area and its peoples, the culture of the new arrivals who continue to build the growing area in lower Manhattan, and the challenges of being an ABC (American Born Chinese) woman.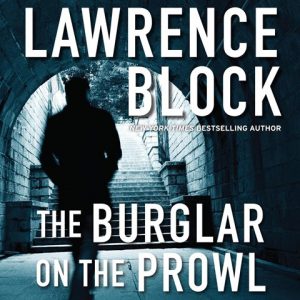 One of my favorite New York series is Lawrence Block's "Burglar" series. The protagonist, Bernie Rhodenbarr, is a bookseller in lower Manhattan who moonlights as a literary-minded gentleman burglar. The sarcastic New York humor keeps me coming back to these audiobooks. Listeners have the opportunity to first hear narrator Richard Ferrone in BURGLARS CAN'T BE CHOOSERS and then listen to an abridged version of THE BURGLAR ON THE PROWL, read by the author himself. Block is a true New Yorker, and his love/hate relationship with the city enlivens a number of his series.
The list of mysteries featuring Manhattan could go on and on. What's your favorite Big Apple mystery audiobook? Let me know in the comments.