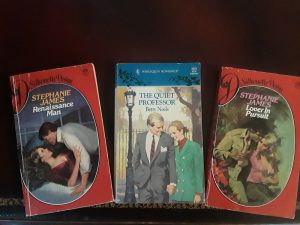 While mystery and science fiction certainly have tropes that weave through the genres—romance rules for recognizable storylines. In the early years of Harlequin et al., certain romantic tropes could not be avoided: boss/secretary, nurse/patient, and teacher/widower-with-son stories were thick on the ground. (Some of the more random ones that I particularly enjoyed were woman inherits castle in remote location, person rescued from waves with amnesia, and man suspects woman of having May/December affair with his father, but really it's platonic.)
When we hit the era of Working Girl (1988), plots included the corporate takeover theme in which the couple is on opposite sides of the bargaining table. And then there's the jungle adventure plot, à la Romancing the Stone. Romance readers who like Jayne Ann Krentz/Jayne Castle/Amanda Quick/ and Linda Howard know they had their start with some of these gems. 
These days, contemporary romance themes can be a little more humorous—love interest with adorable pet, guy who is a misunderstood wolf shifter, romance by texting—I could go on, to great comic effect. While disdainful people might call these tropes predictable and recycled, romance lovers often enjoy the familiar. After all, if we didn't want the couple to get together at the end, we wouldn't read romance. A proficient narrator can upend a familiar trope with breathtaking dialogue and a voice perfectly pitched to catch our attention. I'm particularly pleased to bring you this group of romance audiobooks that turn a guaranteed happy ending into a mix of familiar and fascinating.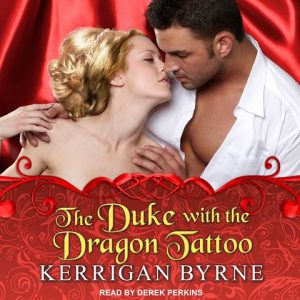 THE DUKE WITH THE DRAGON TATTOO: Victorian Rebels, Book 6
by Kerrigan Byrne, read by Derek Perkins
Tantor Media
AudioFile Earphones Award

Narrator Derek Perkins takes this historical "second chance at love" plot and pumps it up to "gripping" and "enthralling." Listeners love this series pairing of Perkins and Byrne—his deep voice and her mad mix of adventure and deep emotion hit the mark every time.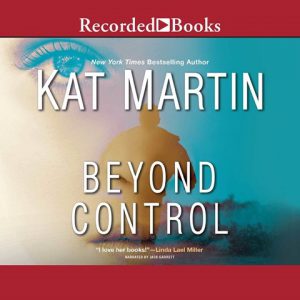 BEYOND CONTROL
by Kat Martin, read by Jack Garrett
Recorded Books

A "past is catching up with you" story from consummate western storyteller Kat Martin lights sparks thanks to narrator Jack Garrett. Josh wants to protect Tory from her abusive ex while building a future with her. This romantic suspense has so much unexpected heart—you won't want to miss it.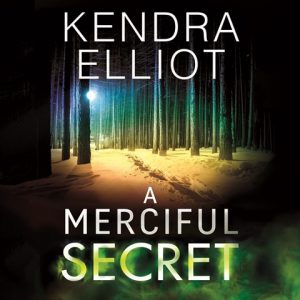 A MERCIFUL SECRET: Mercy Kilpatrick, Book 3
by Kendra Elliot, read by Teri Schnaubelt
Brilliance Audio
Schnaubelt dives into all the characters in this "law enforcement" romantic suspense story. Mercy's an FBI agent, and her lover is a police chief, both drawn into a difficult murder scene. Our reviewer calls this one an "edge of your seat thriller."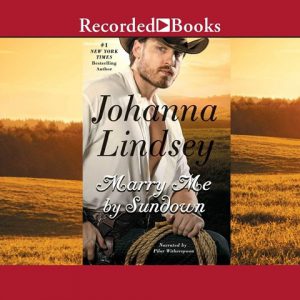 MARRY ME BY SUNDOWN
by Johanna Lindsey, read by Pilar Witherspoon
Recorded Books

I would describe this romantic trope as "hate at first sight." Violet's a city girl, and her time with mountain miner Morgan Callahan is full of bumps—just like their horseback journey to his mine. Narrator Pilar Witherspoon smooths out the bumps and plays up Morgan's western drawl and Violet's British accent to good effect.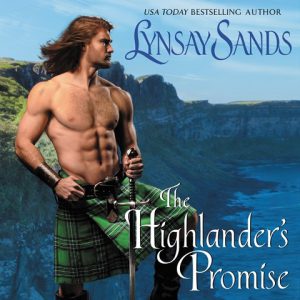 THE HIGHLANDER'S PROMISE: Highland Brides, Book 6
by Lynsay Sands, read by Joel Froomkin
Harper Audio

AMNESIA! (An oldie but a goody as far as romantic tropes!) Narrator Joel Froomkin navigates the Scottish highlands, clan politics, a woman rescued with amnesia, and a laird with an off-putting scar in this seductive historical set in a breathlessly beautiful locale.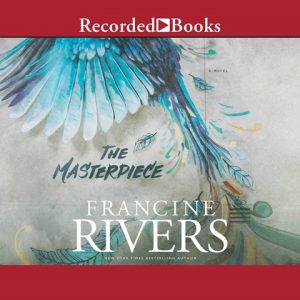 THE MASTERPIECE
by Francine Rivers, read by Susan Bennett
Recorded Books

"Closed off to love"—narrator Susan Bennett traces Roman and Grace's journey from childhood scars to romantic redemption in this Christian romance. Bennett excels at pacing and subtlety in this complex romance.