In Week 7, SYNC participants are off to two stage performances, so grab your snacks for intermission and find a comfy seat. Thank you, L.A. Theatre Works and GraphicAudio, for making these audio-stage experiences for teen listeners part of this season's program! Audience members, both of these plays come to you through full-cast performances, and each recording won AudioFile Magazine's Earphones Award for excellence. The stories they tell, however, take us in different directions.

From its Relativity Series, L.A. Theatre Works takes us into playwright Laura Maria Censabella's PARADISE. Actors Medalion Rahimi and Jeff Marlow portray a high school student and a science teacher who collaborate on a science experiment intended to measure the effects of love on teenagers. As AudioFile's reviewer notes:
The well-written dialogue seamlessly jumps from hope and trepidation to faith, politics, and culture. But it's the sound of trust, friendship, and sacrifice in the actors' voices that makes this production a standout.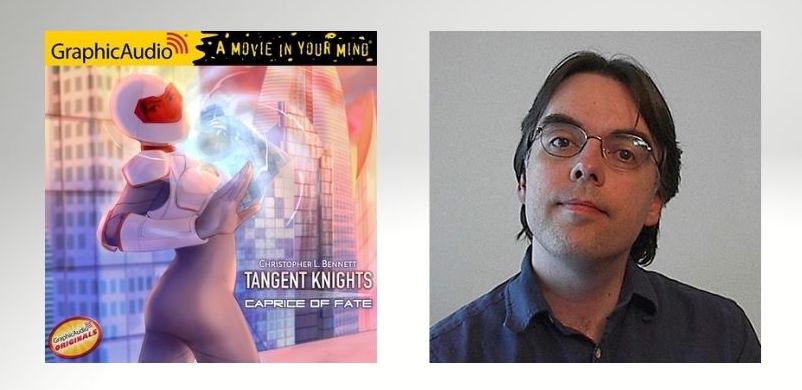 TANGENT KNIGHTS 1: Caprice of Fate, the opening act of a trilogy by science fiction writer Christopher L. Bennett, provides a different kind of story and a very different theater experience. This tale of a futuristic battle between good and evil comes to listeners through a full cast and many credible accents. Voice actors Richard Rohan, Elaine Yuko Qualter, and Bianca Bryan have starring roles. Sound effects are dramatic and frequent, in keeping with the publisher's tagline, "A movie in your mind." Let the author take you on a studio tour for a peek at how the audiodrama was created, an introduction to actor/director Nanette Savard, and a more complete list of all the actors.
Both of the week's free audiobooks provide plots and characters revealed through dialogue, and both feature science as an underlying theme. Because they differ so much otherwise, the pair serves as a great opportunity to compare and contrast both content and performance styles. Hang onto your ticket stub—that is, use your Sora app—to gain access to both stages before the end of the week at 11:59 PM Eastern Daylight Time, June 15!
Photo of Laura Maria Censebella by Jeffrey Colen, Medalion Rahimi photo courtesy of the actor, Christopher L. Bennett photo courtesy of the publisher.