In our newest narrator video, Robert Petkoff gives us his thoughts on recording the book and audiobook everyone is talking about: FEAR: Trump in the White House by Bob Woodward.
"No matter where you are in the political spectrum, once you listen to this audiobook, you are going to want to talk about what is revealed in it."—Narrator Robert Petkoff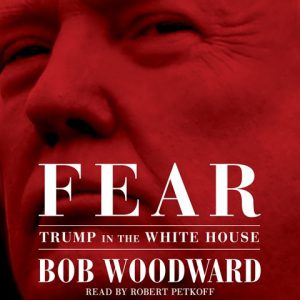 FEAR: Trump in the White House
by Bob Woodward, read by Robert Petkoff
Simon & Schuster Audio
With the steely, measured delivery of a seasoned newscaster, Robert narrates an audiobook that truly lives up to its title. Journalist Bob Woodward has revealed shocking political events for decades—since breaking the Watergate scandal. Robert delivers every point of careful research, in frightening detail. Listen to a sound clip and read the full text of AudioFile's review.
Robert's audiography offers an array of excellent audiobook performances across many genres. It includes nonfiction—Atul Gawande's BEING MORTAL and Tom Wolfe's THE KINGDOM OF SPEECH; great fiction—Andrew Sean Greer's LESS; paranormal romance from Kresley Cole; and science fiction—CAPTAIN TO CAPTAIN, from the Star Trek Legacies series. A man of many voices and audiobook talents.