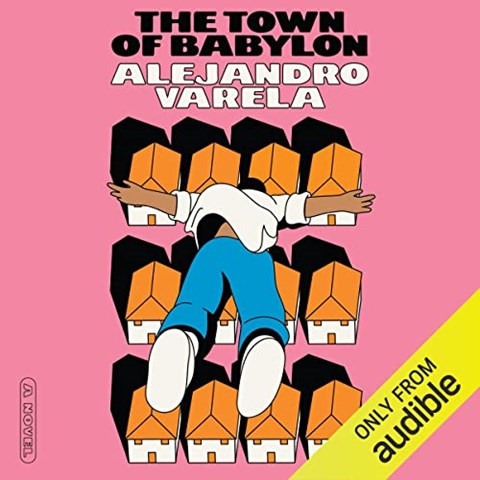 I first read Alejandro Varela's National Book Award finalist debut, THE TOWN OF BABYLON, back in March. When I reread it on audio a few weeks ago, I was struck by how well, and how truthfully, Varela captures the interlocking stories of complex communities. Communities are not just made of people. They also include built environments, economic and ecological systems, histories, and collective memory. They are defined both by public policy and by the intimate details of family life. As I listened, I started thinking about how other living, messy, communities—and the roles they play in every person's life—have shown up in books I've listened to and loved recently. Every author approaches this idea differently. These three audiobooks delve into it with exceptional depth and nuance.
In THE TOWN OF BABYLON, Andrés, a gay Latinx professor, returns to his suburban hometown to help take care of his sick dad. While at home he attends his 20th high school reunion, reconnecting with friends and acquaintances he hasn't seen in years, including his first love, Jeremy. Timothy Andrés Pabon narrates this beautifully layered novel with the perfect mix of emotion and cool standoffishness. Pabon captures both Andrés's self-righteousness and his genuine desire to address the injustices he and his immigrant family have faced throughout their lives.
The narrative moves back and forth in time and flits among various POVs, illuminating the hidden stories of the town's residents. Pabon moves effortlessly between Spanish and English, and he does an admirable job distinguishing between older and younger versions of the same characters. His voicing of Jeremy is especially good: Teenage Jeremy's voice is tinged with hope and excitement, unencumbered. Thirty-something Jeremy speaks in a much lower register, his tone gruff and layered with weariness and resignation. Andrés's reckoning with his past—the town that shaped him, the people who raised him, the people who hurt him, the places where he first fell in love—lies at the heart of this book. But the many side plots give it a symphonic feel, and Pabon's narration, too, feels symphonic.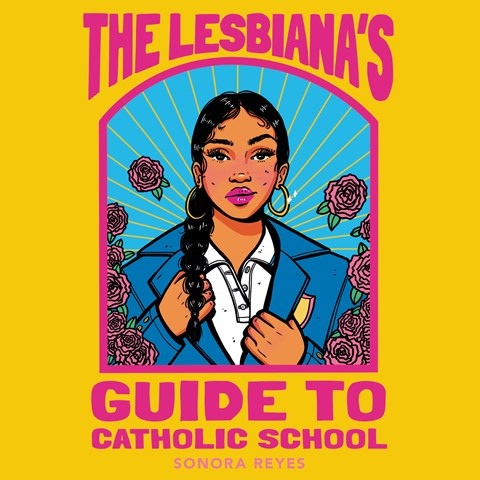 Sonora Reyes's debut, another National Book Award finalist, is also about high school. THE LESBIANA'S GUIDE TO CATHOLIC SCHOOL is a YA romp full of laughs and teen drama. But it's not just a queer love story with a happy ending; at heart, it's a serious story about two queer Mexican American siblings who are both dealing with a whole lot of life messes. Karla Serrato's narration is nothing short of perfection. She voices sixteen-year-old Yamilet with buoyant, infectious energy. You can practically feel Yami's insides melting when she's talking to her crush, and you can hear the anger and pain and desperation in her voice when she's worrying about whether her mom will disown her for being gay. Her relationship with her brother Cesar is arguably the most important one in the book, and Serrato absolutely nails their dynamic. She conveys the love beneath all their good-natured bickering and petty squabbles. And when they hurt each other for real, listeners can hear just how much it wrecks them both.
There are so many communities that shape Yami and the people in her life. There's her Mexican family and the larger Mexican American community in her Arizona town; the mostly-white Catholic school she and Cesar attend; and her new group of friends, including her crush, the only out gay person at school. Reyes beautifully explores all these intersecting communities and the different ways they hold Yami and make her life harder, celebrate her, and make her feel alone. This is not a fluffy book, as it deals with some serious issues, including immigration, religious homophobia, racism, and suicidal ideation—but it's also bighearted and full of joy.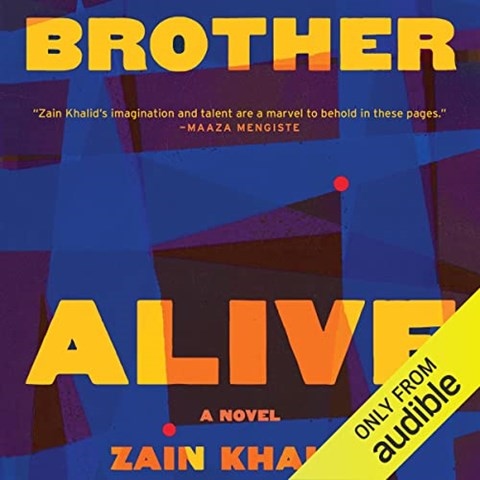 BROTHER ALIVE by Zain Khalid is a dizzying, spiraling novel full of nesting stories. Narrator Fajer Al-Kaisi does an incredible job pulling it all together. Though he embodies each character fully, his voice has a steadiness that grounds the narrative, especially when the plot becomes increasingly strange and frenetic. The story follows Youssef and his two brothers through their childhood and young adulthood in New York City in the early 1990s and early 2000s. They live with their adoptive father, Imam Salim, but know little of their early childhoods in Saudi Arabia. Youssef is plagued by a shadow creature he calls Brother, a strange, shapeshifting entity that follows him everywhere. When Imam Salim returns to Saudi Arabia, Youssef and his brothers follow, hoping to finally uncover the secrets of Brother and their collective history.
With a long section told from Imam Salim's point of view, which Al-Kaisi delivers in a deep, rough voice choked with emotion; a third act full of fraught conversations and breathless action sequences; and frequent switches between first and third person, this can't have been an easy book to narrate. But Al-Kaisi's performance is seamless. He captures the sense of confusion the characters feel, encouraging listeners to get a little lost with them—but not so lost that the book becomes hard to follow. BROTHER ALIVE is thematically complex and structurally fascinating. It's not just about the communities in which the characters live and work. It's also about cultural and ideological communities, and about how historical communities—the places that have shaped parents and grandparents—profoundly impact the lives of the next generation.